Wife murder plots accused 'in previous car crash'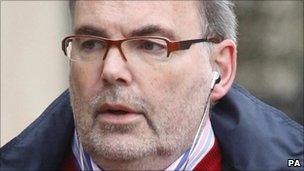 A man accused of murdering his first wife in a car crash was involved in another accident with her a month earlier, a court has heard.
Malcolm Webster, 51, denies drugging Claire Morris in 1994, crashing the car she was in and setting fire to it to gain insurance money.
He is also accused of attempting to murder his second wife in New Zealand.
The High Court in Glasgow heard Ms Morris had told her elderly mother about a previous crash.
In a police statement, Mrs Morris, 85, said Claire told her she and Mr Webster had been involved in a smash where their car rolled over.
Mrs Morris, who lives in Kent, was too frail to give her evidence in person at the court and her 18-page police statement was read to the jury.
In her statement, Mrs Morris said: "About a month before Claire's fatal accident she told me that she and Malcolm had had a car accident.
"This one didn't result in any injuries but it was a nasty one because the car rolled. She said a bush had stopped the car going down the hill.
"Claire said Malcolm was very tired."
Mrs Morris said she did not like Mr Webster and said on one occasion when he visited for a meal he had called her stupid.
She added: "I didn't like Malcolm right from the start. He wasn't the sort of person I would have married. He was strange. You don't call your girlfriend's mother stupid when you've just met her."
Earlier, the court was told Mr Webster had access to a variety of drugs.
Nurse Gena Andrew said Mr Webster, of Guildford in Surrey, had access to drugs while working in Aberdeen Royal Infirmary.
She told the court that drugs such as valium could be taken from the cupboards and it would have been possible for someone to walk out of the ward with them.
Ms Andrew said there was no system for tracking drugs once they had been sent to the drugs cupboard on the ward.
The court heard that after the fatal crash, Mr Webster was alleged to have said that he and his wife were out driving around midnight because he had to take computer work in to the hospital.
Under cross-examination by defence counsel Edgar Prais QC, Ms Andrew described seeing Mr Webster briefly in the wake of the crash.
She said: "He seemed very upset and shattered."
Ms Andrew said that she knew Claire Morris.
She said: "She was really lovely. She was quite quiet, quite reserved, but very knowledgeable."
Mr Webster stands accused of fraudulently obtaining more than £200,000 after cashing in insurance policies following the death of his first wife, who was from Oldmeldrum.
He is further charged with deliberately crashing his car in Auckland, in February 1999, in a bid to kill his second wife, Felicity Drumm, who was a passenger.
Mr Webster did so as part of an attempt to fraudulently obtain hundreds of thousands of pounds in separate insurance payouts, it is alleged.
It is also alleged he intended to bigamously marry Simone Banarjee, of Oban, Argyll, to gain access to her estate and told her he was terminally ill with leukaemia when he was actually in good health.
The second week of the trial, before Lord Bannatyne, continues.
Related Internet Links
The BBC is not responsible for the content of external sites.