Timeline: Malcolm Webster murder case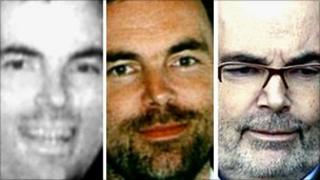 What initially appeared to be a tragic car accident which widowed a husband in 1994 later raised suspicions when he was involved in another crash with his second wife on the other side of the world five years later.
Malcolm Webster was eventually charged with murdering his first wife Claire Morris in Aberdeenshire to get insurance money, and attempting to murder his second wife Felicity Drumm in New Zealand for the same reason.
There were also allegations surrounding a third woman, Simone Banarjee, in Oban, Argyll.
BBC Scotland news website reporter Ken Banks looks back at a timeline of significant events in the case, from when Malcolm Webster married his first wife on 3 September, 1993, until the end of the long-running court case in May 2011.
19 May 2011
The jurors retire to reach a verdict - and find Malcolm Webster guilty in less than four hours.
17 May 2011
Defence counsel Edgar Prais tells the jury in his closing speech that Malcolm Webster is not a murderer.
He says the accused is a "liar" and a "rat bag" - but not a killer.
Mr Prais tells the members of the jury: "The vote you cast will be the most important one you will ever make."
13 May 2011
If convicted, Malcolm Webster would become one of the most notorious modern-day criminals, the jury is told.
Advocate depute Derek Ogg QC says in his closing speech that the accused is "a most cruel, practised deceiver".
12 May 2011
The jury is told in the Crown's closing speech that Webster is a "brilliant criminal genius" who got away with murder - and that his only flaw was "he can't stop himself".
10 May 2011
The defence case closes.
5 May 2011
Malcolm Webster takes the stand at the High Court in Glasgow to give evidence for the first time in the long-running trial.
He denies murdering his first wife and attempting to murder his second.
He says he had not acted for "ill-gotten gains" through life assurance and that his first wife's death was an accident.
3 May 2011
The prosecution case closes after 50 days of evidence.
29 March 2011
Malcolm Webster's second wife Felicity Drumm tells the trial when she confronted her husband he said: "You would have died happy".
Ms Drumm says: "I said it was quite clear his intention had been to kill me.
"He said I would have died happy. I had never been happier. He had given me love, marriage and a child. In other words I should be grateful.
"I felt sick and I felt repulsed by him. I had intended to spend the rest of my life with him."
24 March 2011
Felicity Drumm tells the trial she slept for 36 hours after taking a drink Malcolm Webster gave her on honeymoon.
Ms Drumm says she twice had double vision and trouble walking after having food or drink he gave her on the break.
She says the response of her husband was "glib" when she mentioned her concerns about what had happened to her.
Asked what was the last thing she remembered eating or drinking before that she says: "Malcolm making me a cup of tea and me having that and then just going to bed."
She tells the court she went to bed and woke up 36 hours later.
16 March 2011
A crash reconstruction expert tells the trial he believed it was "highly likely" the car crash and fire in which Claire Morris died was "staged".
Stephen Jowett says there was nothing to physically prevent Ms Morris getting out of the car if conscious.
In a report conclusion he stated: "It is highly likely that the vehicle was steered down the slope into the wooded area from a relatively low speed. Accordingly the physical evidence fits entirely with the contention this was a staged event.
"It is highly unlikely that the vehicle entered the wooded area as the result of a high speed veer. That is to say that this physical evidence does not support any interpretation of the version of events given by Mr Webster."
He added: "It is highly unlikely that the vehicle caught fire as a consequence of any impact damage generated in the incident.
"If this was an impact-related fire the initiation of combustion would have been evident to an outside observer immediately after the impact. Accordingly it is my opinion that the fire was deliberately set."
22 February 2011
Three weeks into the trial, the jury visits the scene of the crash in which Claire Morris died in 1994.
The 15 jurors, the judge and legal teams travelled from their usual venue of the High Court in Glasgow to a tree-lined road in Aberdeenshire.
A replica of the Daihatsu 4x4 involved in the crash is lowered into place at the scene, giving the jury a chance to view it.
Some members clamber down the embankment to take a closer look.
They then return to Glasgow.
1 February 2011
Malcolm Webster goes on trial at the High Court in Glasgow.
He is charged with murdering his first wife, attempting to murder his second wife, and intending to bigamously marry third woman to gain access to her estate.
It is claimed he told her he was terminally ill with leukaemia when he was actually in good health.
10 February 2009
Webster appears in court again, this time also charged in connection with his second wife.
2 February 2009
Malcolm Webster appears in private at Aberdeen Sheriff Court charged with murdering his wife in Aberdeenshire 15 years earlier, as part of a life assurance fraud.
30 March 2008
The man at the centre of an investigation into his wife's death 14 years ago is being hunted by police in New Zealand, it is revealed.
They are investigating a crash involving his second wife, Felicity Drumm, in similar circumstances to the one which killed his first wife in Aberdeenshire.
His second wife survived the crash in Auckland.
Reports indicate Mr Webster is now back in the UK and has been spotted in Oban in Argyll and Bute, as well as Devon and Cornwall.
28 March 2008
Police announce they are re-examining the death of Claire Morris in the crash 14 years earlier.
Grampian Police say letters are being issued to residents in the area appealing for information about a crash which happened just weeks before the fatal collision
The letter states that the previous crash happening in the evening some time between March and May 1994 in the Tarves/Oldmeldrum area.
It states that a couple aged between 30 and 40 were inside a 4x4 and that a farmer used a tractor to tow the vehicle back onto the road.
A Grampian Police spokesman said: "We can confirm we are reviewing the circumstances surrounding a road traffic collision on 28 May, 1994, where a woman tragically died.
"This review is at a very early stage and, as is usual in such circumstances, the Crown Office and Procurator Fiscal Service is fully aware of the matter."
January 2008
Simone Banarjee is warned by police about her fiance Malcolm Webster's past.
Officers present her with a letter concerning the man she plans to marry, relating to matters in Scotland and New Zealand.
It reveals he is married to a woman in New Zealand and had a child.
She says it seems "all so unbelievable" and was not like the Malcolm Webster she knew.
5 August 2004
Nurse Simone Banarjee meets Malcolm Webster at a hospital in Oban, Argyll, where they are both working.
They later become romantically involved.
12 February 1999
Malcolm Webster's second wife, Felicity Drumm, survives a crash in Aukland.
She is found to have a strong sedative in her system.
Mr Webster later fails to appear in court on a number of charges.
April 1997
Malcolm Webster marries Felicity Drumm in New Zealand.
January 1997
Malcolm Webster proposes to Felicity Drumm in New Zealand, after previously meeting at a dinner party in Saudi Arabia.
27/28 May 1994
After eight months of married life, and about a month after another road accident, Malcolm Webster and his wife are involved in a fatal car crash.
It happens on the Oldmeldrum to Auchenhuive road and leaves the 32-year-old woman dead.
Their Daihatsu 4x4 leaves a rural road, crashes into a tree, and catches fire.
Mr Webster's wife is trapped in the wreckage but her husband survives.
After an investigation it is treated as a tragic accident.
March to May 1994
Claire Morris tells her mother, Betty, that she and her husband have been involved in a road accident.
Mrs Morris later tells police her daughter told her there were no injuries.
However she said it was a "nasty one" because the car had rolled.
Mrs Morris says: "She said a bush had stopped the car going down the hill.
"Claire said Malcolm was very tired."
3 September 1993
Malcolm Webster marries Claire Morris, of Oldmeldrum in Aberdeenshire, at Aberdeen's King's College Chapel.