Accused crash man 'bought yacht and car with insurance'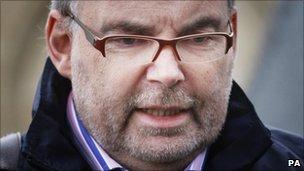 A man accused of murdering his wife in a car crash bought a yacht and car just weeks later, a court has heard.
Malcolm Webster, 51, denies drugging first wife Claire Morris in Aberdeenshire in 1994, crashing the car she was in and setting fire to it.
He is also accused of attempting to murder his second wife in New Zealand.
Friend Janet Davis told the trial at the High Court in Glasgow that Mr Webster, of Guildford, Surrey, bought a yacht and car using insurance money.
Ms Davis told the court she visited Mr Webster several weeks after the fatal crash.
She said: "He had a new car. I guess he needed a replacement and we went for a trip on his boat which he had bought after she had died.
"It was something he hadn't done before and it wouldn't bring back memories. It was something they hadn't done together."
The jury heard she had a number of conversations with Mr Webster about the crash and had noticed a number of inconsistencies.
She said that on one occasion he would say it was a motorbike that forced them off the road and on another said it was a car.
Ms Davis added: "It was minor inconsistencies. What didn't quite gel was he said she was asleep and unconscious from the accident, but he said she screamed.
"Sometimes he said he had hit his head on the windscreen and other times he said the dashboard.
She said Mr Webster said he had been "banned" from his wife's funeral.
Ms Davis said: "Claire's mother was deeply upset and blamed Malcolm.
"He was not going to be allowed to attend the funeral, but there was going to be a memorial service for Claire.
"I didn't think it would be appropriate for me to go if Malcolm wasn't going to be there."
Advocate depute Derek Ogg QC, prosecuting, asked her: "His mother-in-law had banned him?"
She replied: "Because he was driving [during the fatal crash]. Yes."
Mr Ogg then asked if she would be surprised to learn that Mr Webster was not only at the service but had "arranged every detail of it".
She said they had known each other since they were teenagers, and they had both been members of an amateur dramatics group.
She said Mr Webster would have fainting spells, due to a brain tumour, when he was younger from which he would recover quickly.
Mr Webster stands accused of fraudulently obtaining more than £200,000 after cashing in insurance policies following the death of Ms Morris, his first wife, who was from Oldmeldrum.
He is further charged with deliberately crashing his car in Auckland, in February 1999, in a bid to kill his second wife, Felicity Drumm, who was a passenger.
Mr Webster did so as part of an attempt to fraudulently obtain hundreds of thousands of pounds in separate insurance payouts, it is alleged.
It is also alleged he intended to bigamously marry Simone Banarjee, of Oban, Argyll, to gain access to her estate and told her he was terminally ill with leukaemia when he was actually in good health.
The trial, before Lord Bannatyne, continues.
Related Internet Links
The BBC is not responsible for the content of external sites.