Review of Aberdeen baby Alexis' murder to take place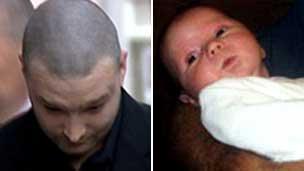 A review of the case of an Aberdeen baby who was murdered by her mother's then-boyfriend is to take place.
Mark Simpson, 30, denied murdering Alexis Matheson by assaulting her in 2007.
A jury returned a unanimous guilty verdict at the High Court in Aberdeen last year and Simpson was jailed for a minimum of 20 years.
The review will be headed up by Howard Llewellyn, the chief officer of Tayside community justice authority.
He will report to the north east of Scotland child protection committee.
Mr Llewellyn has been asked to establish the facts about individual and agency contacts with the child to learn any lessons and make recommendations.
The inquiry is expected to last about six months.
Judge Lord Uist had told Simpson: "The pain and agony which baby Alexis must have suffered as a result of the injuries which you inflicted upon her are unthinkable."
He called for a fatal accident inquiry after the jury's verdict, due to medical care concerns he had, and the Crown Office then said an FAI would be held.
Lawyers for Simpson later said a notice of intention to appeal conviction and sentence had been lodged.
The seven-week murder trial began on 12 October.
The Crown had urged the jury of six men and eight women to convict Simpson for his "wicked recklessness".
But the defence argued there was no sufficient corroborating evidence to say Simpson even assaulted the baby.
He denied murdering Alexis by assaulting her between 18 November and 9 December 2007.
The charge stated he seized hold of her, shook her and compressed her chest, leaving her so severely injured that she died.
Simpson had claimed during the trial the baby's mother played a game called "fishy" where she lay on the floor and held Alexis above her.
He said Ms Sheach regularly shook the baby without supporting her head.
However, Ms Sheach said she would not have done anything to harm her child.
Related Internet Links
The BBC is not responsible for the content of external sites.