Aberdeen Council in call for 'fairer' settlement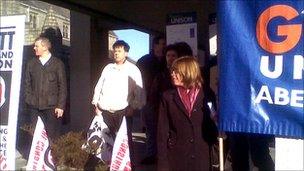 Aberdeen City Council's leader has repeated his call for a "fairer" funding settlement for the city as the authority set its budget for next year.
John Stewart said the city would get an extra £22m if it were to rise just one place from second bottom of the "league table" of council grant settlements.
Aberdeen set its budget at £456m, and will make £26m of savings.
All five councils in the north east of Scotland and the Northern Isles have now agreed their budgets.
Many millions of pounds of savings are being made in Aberdeen, Aberdeenshire, Moray, Orkney and Shetland.
The process will see projects scrapped, services closed and hundreds of posts being lost.
The worst-affected is Aberdeen City Council, where hundreds of jobs could go as part of a bid to save £127m over five years.
Trade unions protested outside the Town House as councillors sat down to agree the budget.
Mr Stewart said after the meeting it was "the toughest financial year that this council has ever faced".
He said: "The context within which we are operating is unprecedented in terms of the severity of the reduction of available funding and the length of time over which the reduction will be faced.
"When times are tough and resources are limited, government must invest where it can get the best return - and Aberdeen is the best place in the UK for the government to invest to help bring the country out of recession."
The Liberal Democrat/SNP administration came under strain this week when the SNP group came out against plans for 900 compulsory redundancies.
But Mr Stewart said non-filling of vacancies and natural turnover meant fewer job losses were now expected.
Meanwhile, Aberdeenshire Council approved a budget of £543m, against a 2010-11 budget of £588.1m.
The authority aims to save £51m over the next two years, and could see a reduction of 900 posts over that period.
Aberdeenshire Council leader Anne Robertson said: "I would again like to emphasise that job reductions are a last resort and every effort will be made to minimise these.
"Officers are currently reviewing existing vacancies, use of agency staff, terms and conditions of service, and levels of overtime.
"All these factors have the potential to reduce the loss of posts within this council. Of equal importance is the need for pay restraint at a national level."
Council tax band D remains at £1,141.
Moray Council approved an annual budget of £193m, making savings of £9.4m.
About 75 posts are expected to be lost, and band D council tax remains at £1,135.
In Shetland, a budget of £122m was approved.
No job losses are planned, but services will be affected, and public transport costs will rise.
Band D council tax remains at £1,053.
In Orkney, the council agreed a budget of £83m, with savings of £4m.
The workforce is set be be reduced by about 80 posts over the next year, but half of those posts are vacant. Band D council tax remains at £1,037.
Related Internet Links
The BBC is not responsible for the content of external sites.