Murder accused 'made film woman feel uncomfortable'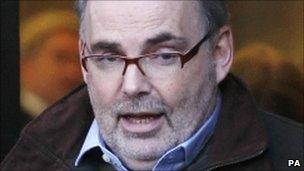 A man accused of murdering his wife in a car crash made a woman feel uncomfortable by watching a film with his head on her lap, a court has heard.
Malcolm Webster, 51, denies drugging first wife Claire Morris in Aberdeenshire in 1994, crashing the car she was in and setting fire to it.
He is also accused of attempting to murder his second wife in New Zealand.
Witness Patricia Malcolm told the High Court in Glasgow she and Mr Webster had been watching Truly Madly Deeply.
She told the court she had written to Mr Webster, of Guildford, Surrey, who she worked with at Aberdeen Royal Infirmary, following the death of his wife.
Ms Malcolm said she had wanted to "let him know I was there for him as a friend".
She said after he invited her for dinner, Mr Webster put on Truly Madly Deeply, which the court heard he said was one of his dead wife's favourite films.
Ms Malcolm said the film's protagonist had been bereaved, but was being watched by the late partner as a ghost.
She said that at the end of the film, the dead partner moved on, saying it was about how "the partner should move on and live their life they way they want to".
She said: "He lay across me while we were watching the film with his head on my knee.
"I felt a little bit uncomfortable but I didn't know what to say or do. I just sat there."
The pair also went for dinner at a hotel restaurant, the court heard. Mr Webster picked Ms Malcolm up in a new 4x4 car and told her he "wanted to come and take me out in his new car".
She said the trip involved some three hours of driving for Mr Webster but he showed no signs of fear or distress at driving, in the wake of the collision that killed his wife.
Ms Malcolm also said Mr Webster had spoken to her about the crash.
She said: "He was outside the car, I think he said he had been knocked out, and when he came to he heard Claire screaming and the car was on fire."
Mr Webster stands accused of fraudulently obtaining more than £200,000 after cashing in insurance policies following the death of Ms Morris, his first wife, who was from Oldmeldrum.
He is further charged with deliberately crashing his car in Auckland, in February 1999, in a bid to kill his second wife, Felicity Drumm, who was a passenger.
Mr Webster did so as part of an attempt to fraudulently obtain hundreds of thousands of pounds in separate insurance payouts, it is alleged.
It is also alleged he intended to bigamously marry Simone Banarjee, of Oban, Argyll, to gain access to her estate and told her he was terminally ill with leukaemia when he was actually in good health.
The trial, before Lord Bannatyne, continues.
Related Internet Links
The BBC is not responsible for the content of external sites.