RAF Tornado crew 'experienced problems landing'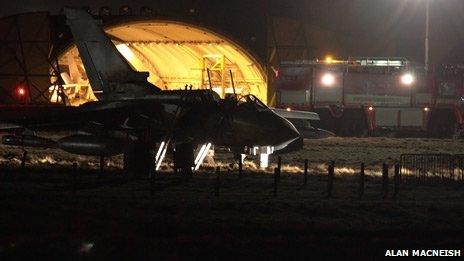 The Ministry of Defence has begun a probe after a Tornado crew was forced to eject after experiencing problems landing at RAF Lossiemouth.
The RAF confirmed the two crewmen ejected safely during the incident, shortly after 1700 GMT on Thursday.
The pilot and navigator were taken to hospital but are thought to have escaped serious injury.
On 27 January two crew members from RAF Lossiemouth ejected from another Tornado before it crashed into the sea.
That crew was forced to crash north west of Gairloch after the plane caught fire at 6,000ft (1,800m).
The men involved in the latest incident were taken to Raigmore Hospital in Inverness.
A Ministry of Defence spokeswoman said it was unlikely the two incidents were connected and that the RAF's Tornado fleet had not been grounded.
She said: "A Tornado aircraft experienced problems on landing at RAF Lossiemouth yesterday.
"The crew, who ejected, are undergoing routine medical checks in hospital. An inquiry is being convened to determine the cause of the incident."
Aviation writer Jim Ferguson said the close correlation between the two incidents had created anxiety among some in the Lossiemouth community.
He said: "We understand the aircraft was landing when something went wrong.
"We understand that [the crew members] are safe, which is the main thing."
He added: "I'm concerned that the MoD is saying so little.
"They obviously know what's going on and I think we should have been told. Was it birds, was it possibly mechanical, because it is concerning local residents."
Meanwhile, a search is continuing in the sea off the west coast of Scotland for the Tornado jet that crashed last month.
The MoD said the hunt for wreckage was still under way and an inquiry into the cause of that incident was active.
A Royal Navy minehunter, HMS Blyth, has been involved in the search.
Following the crash, Stornoway lifeboat crew recovered some pieces of wreckage floating on the sea's surface.
RAF Lossiemouth, on the Moray Firth coast, is home to three squadrons of Tornado GR4s.
The Tornado GR4 is a two-seat attack aircraft, capable of delivering a variety of weapons and reaching a maximum altitude of 50,000ft (15,240m).
In July 2009 a pilot and navigator were killed when their Tornado crashed into a hillside in Argyll.
That aircraft was a RAF Leuchars-based Tornado F3 on a routine flight.
Related Internet Links
The BBC is not responsible for the content of external sites.