Work starts on Elgin's £86m flood defence scheme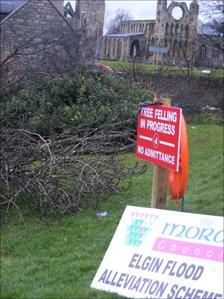 Work on a flood defence scheme for Elgin has begun, following an agreement by Moray councillors to fund the £86m project.
Trees close to the River Lossie were being felled, but the main work on the four-year project begins on 4 April.
The scheme is designed to hold back flood water from the River Lossie.
It will take Moray Council an estimated 40 years to pay off a loan needed to cover the difference in expected government funding for the scheme.
The £86m cost of the largest flood scheme in Scotland is being met by £55.6m from the government and £30.5m from Moray Council.
However, as the level of Scottish government funding for the scheme is about £14m less than the council expected, a loan will be used to cover the difference.
A council spokesman said: "The council will now have to borrow to bridge the funding gap at a repayment cost of £2m a year for the next 40 years. This will impact on future budgets set by the council."
The council has signed a contract with Morrison Construction for the scheme.
Elgin has suffered recurring flooding, with the most serious incidents in July 1997, November 2002 and September 2009.
John Russell, chairman of the council's economic development and infrastructure services committee, said: "This will be seen as a great day in improving the health and wellbeing both of the people and the commercial heart of Elgin.
"The decision to go ahead also sends a strong economic message that Moray is open for business."
He said the council was committed to a "fast start and an on-time finish" but there would be "nervous years" until all the works were complete.
Preliminary work, including the felling of riverside trees, began on Monday morning to enable the project to be completed ahead of the bird breeding season.
Related Internet Links
The BBC is not responsible for the content of external sites.