Alex Salmond meets PM over plans to close RAF bases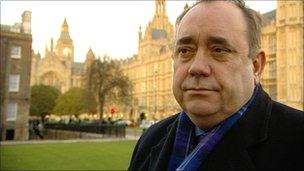 Alex Salmond has said he has been assured by the prime minister that the review of RAF bases will not involve a direct fight between Lossiemouth in Moray and Leuchars in Fife.
The first minister was speaking after holding talks with David Cameron.
Mr Salmond, who lobbied for both bases to be kept open, said he was encouraged by the prime minister's response.
The closure of RAF Kinloss as an air base has already been confirmed by the cancellation of new Nimrod orders.
A decision on the other two bases will be announced after the Scottish election on 5 May.
Following the meeting, Mr Salmond said: "The prime minister said it was not a choice between Scotland's two remaining RAF bases, they were all being considered on an equal footing with every other base.
"The point I made was quite simple; in this review Scotland has already lost - given the assumed closure of RAF Kinloss - one-third of our air capacity, in a review which is closing about 20% of the capacity across the UK.
"It would be insupportable for Scotland to lose two-thirds, with either the closure of RAF Lossiemouth or the closure of RAF Leuchars."
Mr Salmond said Mr Cameron's assurance was "an important advance".
"It will give great heart and encouragement to the campaigners, both at Leuchars and Lossie.
"The arguments seem to be getting through.
"There were no guarantees at all, but I think we're in a better position now with that clarification, than the appalling, ridiculous and unacceptable choice that we had to lose two out of three of our air bases and the only thing that's to be determined is whether it's Leuchars or Lossie."
Some 1,260 people are currently employed at RAF Leuchars in Fife, which has been operational for more than 70 years.
RAF Lossiemouth employees more than 2,400 full-time staff, 288 of them civilians, and there are more than 1,500 employees at Kinloss.
Related Internet Links
The BBC is not responsible for the content of external sites.