Murder accused 'carried petrol before wife's death'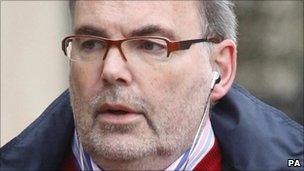 A man accused of killing his first wife in a crash in Aberdeenshire had four canisters of petrol in his car in the weeks before she died, a court heard.
Malcolm Webster, 51, denies murdering Claire Morris in 1994 to fraudulently obtain £200,000 in insurance policies.
Susan Campbell said she warned her friend Ms Morris, 32, that carrying the petrol was dangerous and that her husband should know better.
Mr Webster also denies attempting to murder his second wife in 1999.
He is alleged to have deliberately crashed his car in Auckland, New Zealand, in February 1999, in a bid to kill Felicity Drumm, who was a passenger.
Mr Webster's first wife Claire Morris died in the crash on the Auchenhuive to Tarves Road on 27 or 28 May 1994. The High Court in Glasgow heard she had to be identified by her dental records.
Her husband is accused of murdering her by drugging her with Temazepam, crashing his car and setting it on fire.
Lecturer Susan Campbell told prosecutor Derek Ogg QC there was an overwhelming smell of petrol in Mr Webster's Jeep one to two weeks before the fatal crash.
Ms Campbell, whose own husband died in a car crash in 1988, said: "I asked Claire if there was something wrong with the car. She said there wasn't, there was fuel in the back of the car.
"It was so bad that I suggested that we open all the windows."
She was asked by Mr Ogg: "Had you ever smelled that before in the car when you were in it?" She replied: "No."
The witness added: "She said Malcolm used to carry the cans of petrol because he was afraid they would break down on the road."
The court was told that when Mr Webster arrived at the car Ms Campbell warned him of the dangers of carrying petrol in the car.
She said: "I thought it was dangerous and he should remove it from the cars.
"I don't have any memory, but I think there was a comment that some of it was for the lawn mower."
The court was told that Ms Campbell repeatedly tried to contact Mr Webster after the crash because she knew what it was like to lose someone in that way.
They met in a restaurant in Aberdeen, where they talked about the crash.
Ms Campbell added: "I have very little recollection of that night.
"I went home and phoned my mother and cried and said: 'He's moved on already. I still can't get over my husband. I find that very strange'."
The trial also heard from Ms Morris's GP, who said she visited him twice in the weeks before she died, complaining of fatigue.
The jury was told that Francis Howarth took blood tests and these came back normal.
He was then asked by Mr Ogg: "You did not do any toxicology tests to see if she was taking, abusing or being given drugs?" He replied: "I didn't test for that."
Dr Howarth was asked if he would have prescribed Temazepam for her and he replied: "No."
Mr Ogg asked: "Would Temazepam cause you to be sleepy?" Dr Howarth said: "That is the purpose of that medication."
Under cross-examination by defence QC Edgar Prais, Dr Howarth was asked why on the computer notes for 13 May 1994 he put fatigue then (end). He replied: "I would have considered that to be the end of the problem."
Earlier Heather Stewart, a team leader with NHS 24, told the court that in 1994 she was on the same university course as Ms Morris.
She said Ms Morris told her she was tired and taking naps in the afternoon.
Mr Webster is also charged with forming a fraudulent scheme between 2004 and 2008 to enter into a bigamous marriage with Oban nurse Simone Banarjee, to get access to her estate, which he denies.
The trial, before Lord Bannatyne, continues.
Related Internet Links
The BBC is not responsible for the content of external sites.