Death crash wife's friend wrote to prosecutors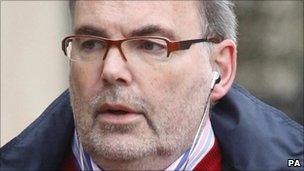 A woman has told a murder trial that she wrote to prosecutors in Aberdeen after hearing that her friend had died in a car crash.
Former nurse Sarah Dawidek said she and her husband both sent letters to the procurator fiscal following the death of Claire Morris in May 1994.
Malcolm Webster, 51, denies killing Ms Morris, his first wife, by deliberately crashing the car they were in.
He also denies trying to murder his second wife in a crash in 1999.
Ms Dawideck, 49, told advocate depute Derek Ogg QC that Ms Morris told her about a car crash she and Mr Webster had been involved in months before her death.
She said that Ms Morris told her that Mr Webster was driving while she was a passenger and their car had gone off the road and into a ditch.
Ms Dawideck was asked by Mr Ogg: "Having heard the circumstances as reported to you of the fatal crash involving Claire, did you draw comparisons with the earlier accident?"
The witness replied: "Absolutely, 100%."
Mr Ogg then asked her: "Did you or your husband or both of you write to the procurator fiscal in Aberdeen?"
Ms Morris died after the car she was a passenger in crashed on the Auchenhuive to Tarves Road on 27 or 28 May 1994.
Mr Webster is accused of murdering her by drugging her with Temazepam, crashing his car and setting it on fire.
In evidence, Ms Dawidek claimed that Ms Morris, who moved to Aberdeen to train as a nurse, told her friend that she was very tired and always falling asleep in the time before her death.
Ms Dawidek said: "We put it down to her changing her career. We put it down to the high pressure change in lifestyle into academic work."
The witness said that when she used to call her friend at about 8pm or 9pm, Mr Webster would answer the phone saying his wife was sleeping or studying.
Mr Ogg asked: "Did she appear concerned about sleeping at that time of night?"
Ms Dawidek replied: "She would say she was always tired and cold. She would say it was Scotland. She wasn't used to the cold temperature, but it was a concern for her."
The trial has already heard from another witness Susan Dolby, a former friend of Claire Morris, that Mr Webster had written to her detailing the wrong date of Ms Morris' death.
Ms Dolby said that Mr Webster had indicated in a letter from Saudi Arabia, where he was working at the time, that Ms Morris had died on 26 May.
The jury was read a letter dated 3 April 1995, nearly a year after the fatal crash.
The letter said: "I find that I miss Claire more each week. Maybe that is because I am away or that 26th May is getting nearer, I really don't know."
Mrs Dolby, 45, who lives in Surrey, England, was asked by Mr Ogg: "Did you know that Claire's death was on May 27 or 28?".
She replied: "No I didn't."
Another friend, Claire Gough, 49, a nurse, who said she was Ms Morris' best friend at school, told the court that Mr Webster also wrote to her after the fatal crash.
In one letter, he said: "I was lucky to have Claire in my life for four wonderful years. I feel lost without her."
Malcom Webster is also alleged to have deliberately crashed his car in Auckland in February 1999, in a bid to kill his second wife Felicity Drumm, who was a passenger.
He is also charged with forming a fraudulent scheme between 2004 and 2008 to enter into a bigamous marriage with Oban nurse Simone Banarjee, to get access to her estate.
The trial, before Lord Bannatyne, continues.
Related Internet Links
The BBC is not responsible for the content of external sites.