Nurse thought Malcolm Webster 'had killed wife'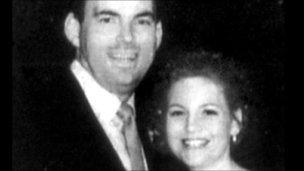 A nurse told a murder trial she always thought the accused had killed his first wife in a crash in Aberdeenshire.
Malcolm Webster denies murdering Claire Morris by drugging her, crashing their car and setting it on fire in 1994.
The court heard 46-year-old nurse Lesley Roberts went to police after hearing rumours in 2006 about a crash involving Mr Webster's second wife.
Mr Webster is also accused of attempting to murder Felicity Drumm in New Zealand in 1999, which he denies.
The 51-year-old, from Guildford in Surrey, is alleged to have carried out the offences to gain insurance money.
Ms Roberts told the High Court in Glasgow that she became good friends with Ms Morris in the six months before she died.
She said that after hearing rumours about Mr Webster in 2006, she went into a police station in Anstruther to give a statement.
Advocate depute Derek Ogg QC, prosecuting, asked her: "You thought Malcolm Webster had killed his first wife?"
She replied: "I always thought that."
Mr Ogg said: "The suggestion is that his second wife had been poisoned and you linked that with the fact you have never been happy about the way Claire met her death and you went to the police to say look at it again."
Ms Roberts replied: "Yes."
The witness also told the court that the day before Ms Morris died, she told Ms Roberts there was "something wrong" with her.
She said the two women went to a keep fit class in Tarves on 26 May, 1994, and afterwards spoke for about 20 minutes.
Ms Roberts told the court: "She said 'I'm not right. I'm tired and I can't concentrate'."
She was told on 28 May that her friend had died.
Under cross-examination, defence counsel Edgar Prais QC asked Ms Roberts: "Is it not true you have simply got it in for Malcolm Webster?" She denied this.
The court also heard from retired paramedic Robert Gallon, who said he and a colleague were called to a crash in the early hours of 28 May, 1994.
He said that when they arrived the car was still ablaze and Mr Webster was standing beside the fire engine.
Mr Gallon was asked how Mr Webster appeared. He said: "Slightly confused. He said he was okay. He asked us on two or three occasions how his wife was. I felt I was not in a position to say his wife had died."
He said Mr Webster's hair, eyebrows and clothing were not singed.
Mr Webster stands accused of fraudulently obtaining more than £200,000 after cashing in insurance policies following the death of his first wife, who was from Oldmeldrum.
He is further charged with deliberately crashing his car in Auckland, in February 1999, in a bid to kill his second wife, Felicity Drumm, who was a passenger.
It is also alleged he intended to bigamously marry Simone Banarjee, from Oban, Argyll, to gain access to her estate and told her he was terminally ill with leukaemia when he was actually in good health.
The trial, before Lord Bannatyne, continues.
Related Internet Links
The BBC is not responsible for the content of external sites.