Shetland deep drilling to be challenged in court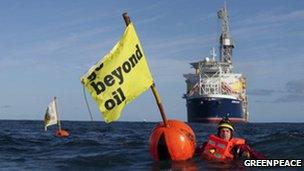 Greenpeace has been given the right to challenge the UK government's go-ahead for oil drilling off Scotland's coast.
It claimed the government failed to carry out an "appropriate assessment" of the risks posed by deep drilling off Shetland, in light of the Deepwater Horizon disaster in the Gulf of Mexico.
At the High Court in London, Mr Justice Ouseley said he had considerable doubts about the arguability of some points but that the issue had to be resolved.
A hearing is due in the coming months.
The judge said: "I have considerable doubts about the arguability of a number of the points, but all the issues will have to be properly resolved and that will require full argument and consideration of the sort that can only be undertaken at a full hearing however described."
Greenpeace launched its bid for a judicial review in November, a month after licenses were granted to drill for oil in deep waters off the Scottish coast, albeit fewer than had been previously.
The organisation argued the government failed to assess the risks that new drilling posed to protected habitats.
The court action followed an explosion on a BP drilling rig off Louisiana in April that killed 11 workers and triggered America's worst oil spill.
The Department of Energy and Climate Change now has 35 days to prepare a defence and present it to the judge, who will then consider the arguments from both sides.
Oil companies will have the opportunity to decide whether they want to join in defending the case.
John Sauven, Greenpeace's chief executive, said: "The BP spill was a game-changer, highlighting the very real risks of dangerous deep sea drilling for both important wildlife and the economy."
Scottish Green MSP Patrick Harvie described the decision as significant.
"The UK government granted these licenses even before the investigations into BP's Gulf of Mexico disaster had finished," he said.
"Since then even some of those already given licenses to drill in deep waters off Shetland have admitted that they are not prepared for a similar disaster in Scottish waters.
"The courts will now hear the case, and I hope they send UK Energy Secretary Chris Huhne back to the drawing board."
WWF Scotland director, Dr Richard Dixon, said: "Oil companies simply have no idea how they would deal with a major deep water oil spill.
"We therefore welcome any decision that will lead to a review of the granting of oil drilling licenses in deep waters off the Scottish coast."
Related Internet Links
The BBC is not responsible for the content of external sites.