Search on over World War II mural mystery in Orkney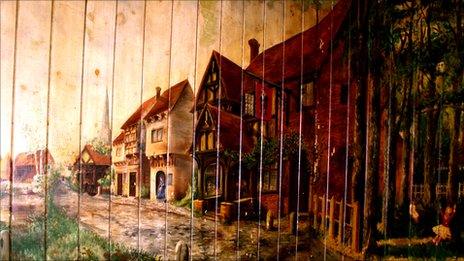 A search has been launched to trace the artist behind a mysterious World War II mural in Orkney.
Soldiers stationed at the Ness Gun Battery - which guarded one of the entrances to the naval anchorage of Scapa Flow - created the image.
It depicts rural England and was believed to be a reminder of home. It is signed AR Woods.
Conservation work is due to begin on the site later this year, and historians hope to identify the artist.
Previous attempts to solve the mystery have failed.
The Ness Battery is regarded as one of the most important World War II sites in the country.
It includes the original concrete structures - including gun emplacements and battery observation post - and also has the original 1938 wooden camp buildings.
It is also famed for the mural.
The site was acquired by Orkney Islands Council from the Ministry of Defence (MoD) in 2002 and the project now forms part of the Scapa Flow Landscape Partnership, with hundreds of people attending tours.
Julian Branscombe, project manager for the Scapa Flow Landscape Partnership, said: "This site has survived very well over the last 73 years.
"The buildings now need a lot of work, particularly the wooden accommodation huts."
Of the mural, he said: "There's been a considerable amount of work done in the past to try and find out just who created this wonderful mural, but it's not a name that we've been able to trace through war records or any of the other usual sources.
"Hopefully we'll soon be in a position to appoint a contractor to carry out some vital conservation work on the site - it would be just put the icing on the cake if we could also manage to finally trace the elusive AR Woods."
Tenders are being invited for the conservation work.
Orkney Islands Council is receiving funds for the project.
These are coming from the European Regional Development Fund, Historic Scotland and Heritage Lottery Fund.
Related Internet Links
The BBC is not responsible for the content of external sites.