Man discovered death crash 'minutes after it happened'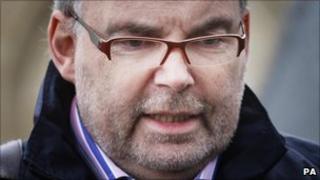 A man discovered a crash, in which a nurse was allegedly murdered by her husband, just minutes after it happened, a court has heard.
Malcolm Webster, 51, from Surrey, denies killing his wife Claire Morris in 1994 by drugging her, crashing their car and setting it alight.
The High Court in Glasgow heard police statements from bus driver Kevin Shearer, who died last week.
He told police he had found Mr Webster on all fours at the side of the road.
The crash happened on the Auchenhuive to Tarves road at Kingoodie in Aberdeenshire.
Mr Webster, from Guildford, is accused of fraudulently obtaining more than £200,000 after cashing in insurance policies following the death of his first wife, Ms Morris, who was from Oldmeldrum.
He is further charged with deliberately crashing his car in Auckland in February 1999 in a bid to kill his second wife, Felicity Drumm, who was a passenger.
It is also alleged he intended to bigamously marry Simone Banarjee, from Oban, Argyll, to gain access to her estate.
It is claimed he told her he was terminally ill with leukaemia when he was actually in good health.
The court heard Mr Shearer was driving to collect a group of lawyers and their partners from nearby Haddo House when he passed the scene of the crash.
He statement to police said: "I saw a person on all fours on the verge. I did not see anyone else. The person was crawling towards me, but didn't do anything to attract my attention. I saw a Daihatsu vehicle down an embankment."
Mr Shearer also told police he got the feeling the accident had happened only a few minutes before he arrived on the scene.
He added that he spoke to Mr Webster, who appeared concerned and shocked, and he said something about a motorcyclist.
Because of this, Mr Shearer looked under both sides of the 4x4 to see if there was anybody there.
He added: "I'd also have looked into the vehicle as well, but did not see any person inside. I did not see anything resembling another vehicle or person beneath the vehicle."
The court was told Mr Shearer told Mr Webster to stay where he was and drove to a nearby house and asked the owner to phone for help.
The trial, which began on 1 February, continues on Monday.