RAF Lossiemouth 'uncertainty remains' amid Tornado news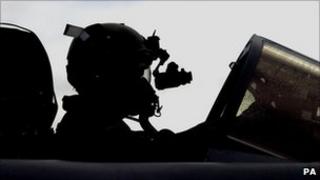 A decision to disband a Tornado squadron at RAF Lossiemouth does nothing to clear up uncertainty over the base's future, it has been claimed.
The Moray base's 14 Squadron and XIII Squadron from Marham in Norfolk will be disbanded, the Ministry of Defence said on Tuesday.
It will affect about 150 personnel but the MoD insists no final decision has been taken on closures.
Politicians said the uncertainty was having a negative effect locally.
The personnel will not automatically be made redundant. They will be found other jobs in the short term, probably in different locations.
Moray Council deputy convener Allan Wright told BBC Scotland: "It's very sad news and it will have a big impact on the station and the community.
"There's a growing feeling of uneasiness about the future.
"It's hitting all the businesses and everyone is wondering if there is a future here."
Moray SNP MP Angus Robertson, the party's defence spokesman, said: "We need a totally new approach to military base closures, because the way the Ministry of Defence manages these decisions right now is failing and unfit for purpose."
The armed forces are looking to shed 17,000 posts over the next four years as defence spending is cut.
The UK government said the cuts were necessary.