Council's cash ultimatum to stop Aberdeen deer cull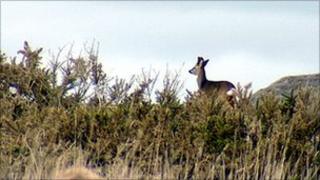 An animal charity has hit out after being told £235,000 must be raised to prevent deer in Aberdeen being culled to protect a tree-planting scheme.
The city council said some deer may have to be destroyed to protect new tree saplings being planted on Tullos hill to the south of the city.
The money would pay for fencing, which the council cannot afford.
But the charity Animal Concern said the tree-planting should be postponed rather than a cull being carried out.
Animal Concern's John Robins told BBC Scotland it was "blood money" and they would not even try to raise it.
He said: "I am flabbergasted, it really is ridiculous.
"If the council would be killing deer for financial reasons, if the council cannot afford to do it properly, they should not be doing it at all.
"There will be protests, people are not going to allow the council to go ahead with this."
Scottish SPCA's Mike Flynn said: "We firmly believe culls should only take place to protect the public or for animal welfare reasons.
"It is absurd and abhorrent to undertake a cull because it would be too costly to protect trees.
"We would suggest these trees should either be planted elsewhere or not at all. Trees should certainly not be planted at the expense of the lives of animals."
The council said it was the only option.