Ferry puffin sculpture to be auctioned for charity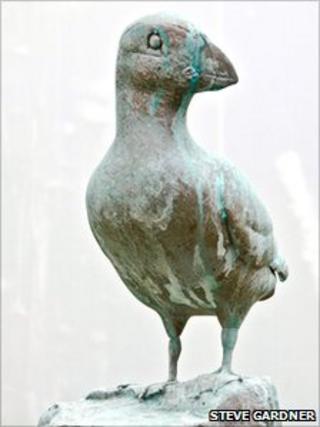 A life-sized bronze puffin that has been travelling between the Northern Isles and Aberdeen is being sold for charity.
The sculpture was fitted on the NorthLink boat Hrossay last year to illustrate the life puffins face at sea during winter.
Artist Eddie Hallam said he hoped the donation would raise public awareness of puffins.
It is being auctioned on eBay for the Scottish Wildlife Trust.
It is estimated to be worth more than £1,000.
Mr Hallam said: "I've been a member of the trust for several years and I'm delighted to be able to give something back to support Scottish wildlife.
"Originally cast in bronze, the puffin's time at sea has dramatically changed its appearance, producing a wonderful mottled green finish."
Lucy Graham, SWT's head of development, said: "This puffin has been on a fantastic adventure, and its time at sea makes you realise just what the wild puffins have to endure.
"We hope the auction will attract many bidders for the chance to own this remarkable wildlife sculpture."
The person submitting the highest bid when the auction closes at 1700 GMT on Sunday 13 March will win the sculpture.
Interested bidders can visit www.eBay.co.uk/charity and search for Scottish Wildlife Trust under the favourite charity link at the bottom of the page.