Squirrel sighting text scheme relaunched in Aberdeen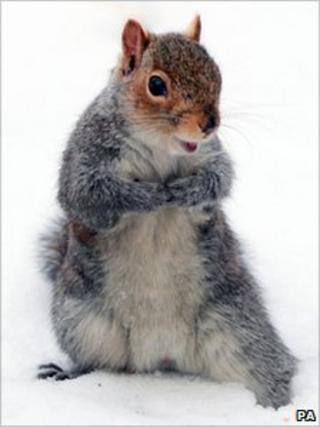 A scheme to collect information on squirrels by texting sightings has been relaunched in Aberdeen.
The aim is to collect data on squirrel distribution by getting residents to report seeing squirrels by sending a text message.
Text-A-Squirrel was first launched in the city last year as a two-week pilot.
Sightings can be reported by texting RED or GREY, followed by the area, street or postcode where it was seen, and the person's name, to 88802.
The pilot was launched by Saving Scotland's Red Squirrels, a partnership project including the Scottish Wildlife Trust (SWT) and Scottish Natural Heritage (SNH).
Hollie Walker, the North East Scotland project officer for Saving Scotland's Red Squirrels, said: "Last October we received 154 squirrel sighting reports.
"This information helped us to get a picture of where red and grey squirrels are found in Aberdeen.
"Last time, we were surprised by reports that some people were even seeing red squirrels right in the heart of Aberdeen city.
"Now we would like to see how they have fared over the exceptionally hard winter."
She added: "Most people carry a mobile phone when they are out and about, so we hope that the ease of texting will encourage more people to report their sighting when they spot a red or grey squirrel."
It runs until Friday 25 March.
Sightings can also be reported at a special section of SWT's website.