Murder trial death crash 'was fireman's first inquiry'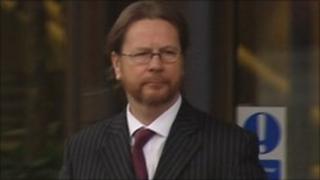 A fireman who carried out a probe into the death of a woman in a car crash had never done anything similar before, a murder trial has been told.
Malcolm Webster denies killing his first wife, Claire Morris, in 1994 by intentionally crashing their car in Aberdeenshire and setting it on fire.
Michael Maloney, who is now retired, said he was asked to produce a report.
Mr Maloney admitted at the High Court in Glasgow that his report may not be reliable.
Mr Webster, from Guildford in Surrey, is accused of killing his first wife by drugging her, crashing their car and setting it alight.
He also denies fraudulently obtaining more than £200,000 after cashing in insurance policies following Ms Morris's death.
He is also charged with deliberately crashing his car in Auckland, New Zealand, in February 1999 in a bid to kill his second wife, Felicity Drumm, who was a passenger.
It is also alleged that he intended to bigamously marry Simone Banarjee, from Oban, Argyll, to gain access to her estate.
It is claimed he told her he was terminally ill with leukaemia when he was actually in good health.
Under questioning by advocate depute Derek Ogg QC, prosecuting, Mr Maloney said it was the first time he had investigated a fatal fire car crash and the first time he had prepared a report on one.
The jury heard that Mr Maloney arrived at the crash scene after the fire had been put out, and examined Mr Webster's Diahatsu Sportrak.
In his report he said that, in his opinion, the cause of the fire was petrol leaking into the engine and igniting.
Mr Ogg then said the court may hear evidence from experts which discounted that.
Electrical fault
He asked: "Do you still maintain that is the likeliest cause of it?"
Mr Maloney replied: "Yes."
Mr Ogg said: "If I were to tell you the fire did not develop until at least 15 minutes after the collision does that affect that conclusion that the fire was caused by a petrol leak?"
Mr Maloney replied: "It may."
He added: "My assumption was that the fuel from a leaking pipe had ignited. Also, the materials in the engine compartment had ignited causing the fire to spread."
The jury heard that some of the information which Mr Maloney had at the time he compiled the report may have been inaccurate or incomplete.
He was asked: "Do you accept your report may not now be reliable?"
He replied: "If what you're saying is true that would be correct."
Under cross examination by defence counsel Edgar Prais QC, Mr Maloney said he based his report on the 18 years of experience he had in 1994 as a fireman.
Mr Maloney was asked if an electrical fault could be a possibility given the length of time before the fire started, and he said it was.
The trial, before Lord Bannatyne, continues.