Aberdeenshire gunfire: man gave himself up to police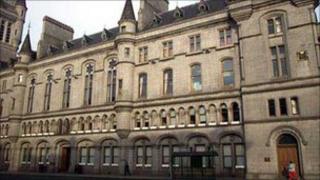 A man accused of recklessly firing guns at a shooting party in Aberdeenshire handed himself over to armed police, a trial has heard.
Michael Sutherland, 38, of Newburgh, denies culpably and recklessly firing a rifle and shotgun in 2009.
The weapons were allegedly discharged in the direction of men who were out shooting birds in a field in Foveran.
Pc Andrew Snell, a firearms officer for Grampian Police, told Aberdeen Sheriff Court Mr Sutherland was calm.
Mr Sutherland is alleged to have exposed Mr Jackman, Liam Burke, Patrick O'Sullivan and John Condon to the risk of serious injury or death.
The lives of Peter Butler, Seamus Butler, James Lambert and Kevin Lambert are also claimed to have been endangered in October 2009.
Pc Snell said he was carrying a concealed handgun and tazer when Mr Sutherland arrived to meet seven armed officers at a farm track.
'Calm and compliant'
He said: "He stopped his vehicle about 10m from where we had positioned our cars and exited the vehicle.
"He walked towards us, was taken behind the back of the vehicle and handcuffed to the rear.
"He was calm, compliant and did everything we asked of him."
Ian Duguid QC, defending Mr Sutherland, said there were two children, aged one and three, in the car when Mr Sutherland pulled up to meet police.
He asked the witness: "Was there some difficulty about the fact he had two young children in the car and was to be taken into custody?"
Pc Snell replied: "He was concerned about what was going to happen to his children and made arrangements for his father to come and uplift them."
Witness Owen Jackman previously told the court how how he feared someone was going to die when his party came under fire.
The trial, before Sheriff Kenneth Stewart, continues.