Malcolm Webster case: Second wife 'slept for 36 hours'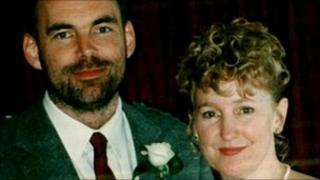 A nurse whose estranged husband is accused of trying to murder her slept for 36 hours after taking a drink he gave her on honeymoon, a court heard.
Malcolm Webster, 51, of Surrey, denies crashing his car New Zealand in 1999 in a bid to kill his second wife, Felicity Drumm, 50, for insurance money.
Ms Drumm said she twice had double vision and trouble walking after having food or drink he gave her on the break.
She told the High Court in Glasgow she slept for 18 hours on one occasion.
Ms Drumm said the response of her husband was "glib" when she mentioned her concerns about what had happened to her.
Mr Webster, of Guildford, is accused of attempting to murder his wife and drugging her at locations in New Zealand and the UK between July 1996 and February 1999, to the danger of her life and that of her unborn child.
He is also charged with trying to murder her in a deliberate car crash in New Zealand in February 1999, in a bid to obtain more than £750,000 worth of insurance money by fraud.
Mr Webster is also accused of killing his 32-year-old first wife Claire Morris by drugging her, crashing their car in Aberdeenshire and setting it alight on 27 or 28 May 1994.
He denies fraudulently obtaining more than £200,000 after cashing in insurance policies following Ms Morris's death.
It is also alleged that he intended to bigamously marry Simone Banarjee, from Oban, Argyll, to gain access to her estate. It is claimed he told her he was terminally ill with leukaemia when he was actually in good health.
Ms Drumm, who is still married to Mr Webster and has a 13-year-old son by him, travelled from New Zealand to give evidence at his trial.
The couple were married in New Zealand in April 1997 and then set off on honeymoon.
Asked by prosecutor Derek Ogg QC whether anything odd happened during the trip, she told the court that while they were staying at Cooks Beach she went to bed and woke up 36 hours later.
He asked what was the last thing she remembered eating or drinking before that and she replied: "Malcolm making me a cup of tea and me having that and then just going to bed."
Ms Drumm said Mr Webster told her he tried to wake her and fed her a meal during the 36-hour period, but she did not remember that.
She told the court she felt his response was "fairly casual".
The second episode happened about a week later when she experienced double vision while in the car.
By the time they arrived at their hotel she was "staggering and needed help to walk", she said, and went to sleep for 18 hours.
Before that incident, Mr Webster bought her a bottle of water, she told the court, but she could not remember if the seal was open when he gave it to her.
Mr Ogg asked whether they had discussed the episodes.
She said: "I raised it a number of times that I was feeling frightened and quite anxious about what was going on. His response was quite glib."
Ms Drumm said she suffered double vision and felt unwell for a third time as she and her husband drove to her parents' house.
Ms Drumm had previously eaten a breakfast bought by Mr Webster, the court heard.
While staying with her parents in Auckland, she went to see a GP who took blood tests and carried out a neurological examination.
Mortgage-free
These were normal apart from one which showed some abnormality of liver function, which Ms Drumm said could suggest recent infection or drugs or alcohol; however, none of these three possibilities seemed that relevant to her, she told the court.
Ms Drumm, an oncology nurse, said the doctor told her she may have a type of epilepsy or a brain tumour and that she should look into it when she had moved to Scotland with Mr Webster.
She said she has not since been diagnosed with epilepsy nor a brain tumour, and had never suffered double vision before her honeymoon.
Ms Drumm met Mr Webster through mutual friends in May 1996 while she was working as a district nurse in Saudi Arabia.
They got engaged in January 1997 and she told the court he was aware that her house in New Zealand was mortgage-free and that she had savings.
The trial, before judge Lord Bannatyne, continues.