Malcolm Webster trial: 'Murder bid' wife 'dominated'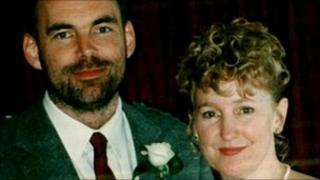 The wife of a man accused of trying to kill her has claimed he dominated her and poisoned her, a murder trial has heard.
Malcolm Webster denies crashing a car in New Zealand in 1999 in a bid to kill his second wife Felicity Drumm to claim insurance money.
He also denies murdering his first wife in Aberdeenshire in 1994 in a car fire.
Ms Drumm told the High Court in Glasgow: "I didn't want to take away his feelings of masculinity."
Mr Webster, 51, of Guildford, Surrey, denies attempting to kill Ms Drumm and fraudulently obtain £750,000 from insurance policies.
He further denies murdering his first wife, 32-year-old Claire Morris. She died when the vehicle in which she was a passenger crashed and caught fire in 1994.
It is also alleged that he intended to bigamously marry Simone Banarjee, from Oban, Argyll, to gain access to her estate.
Ms Drumm was asked by defence counsel Edgar Prais QC if Mr Webster dominated her and she replied: "Yes, he did."
Mr Prais asked: "The independent Felicity Drumm dominated by Malcolm?"
She said: "On occasions he did."
Ms Drumm explained: "I was adjusting to married life, trying to be respectful.
"I was 36 when I met him, used to making my own decisions. I realised I had to mellow a little bit and let him feel he was the decision maker."
Not fear
Mr Prais asked if she was frightened of Mr Webster and she replied: "It was nothing to do with fear."
Ms Drumm told the jury: "I didn't want to take away his feelings of masculinity."
Earlier in evidence, Ms Drumm told the jury: "Malcolm poisoned me."
Mr Prais asked why she continued to eat food if she felt unwell afterwards and Miss Drumm replied: "I didn't know I was being drugged and thought I might have a medical condition.
"It didn't occur to me at the time my husband was poisoning me."
Ms Drumm told the court she confronted her husband after she realised her savings - about 130,000 New Zealand dollars - had gone from the account they shared.
She said: "At first I thought I had got it wrong. It was beyond my comprehension how somebody had been so cruel and deceitful."
She told the court she put her episodes of ill health, the disappearance of her money, the insurance policies on her life and Ms Morris's death all together and said it was like a jigsaw.
The jury heard that Ms Drumm confronted her husband when he asked to meet her in a supermarket car park, after she had found out her money had gone and just days after their car had crashed on the way to the bank.
The court has heard that Mr Webster went to a hotel after it emerged he had taken her money.
Mr Prais asked: "You asked him if he had tried to kill you and you lost your temper?" Ms Drumm replied: "Yes, I felt at the time I had the upper hand."
The witness agreed when Mr Prais put it to her: "You would have been raging if he said these things to you. The response that Malcolm Webster made would be permanently engraved on your mind?"
But, Mr Prais told the court that five minutes previously Ms Drumm could not recall whether she accused Mr Webster of killing her at the car park or in his hotel.
'Die happy'
When asked again where the meeting took place, she said: "My memory is that it was in the car park."
Mr Prais asked: "The two of you are sitting in the car park how did you raise the issue of possible drugging?"
She replied: "I don't remember my exact words. I put it to him that it had been his intention to kill me, by then I'd seen all the life insurance policies."
Mr Prais then said: "Sitting with this thieving man in the car park, him in the passenger seat and you in the driver's seat accusing him of killing you, and you say he said you would die happy - how did you feel?"
Ms Drumm said: "I was repulsed by him and found him repellent."
The QC said: "But you gave him a lift back to his hotel. Are you expecting this to make sense if he said that to you?"
She replied: "It doesn't matter whether it makes sense, it happened."
The trial, before judge Lord Bannatyne, continues.