Malcolm Webster trial: Father-in-law tells of suspicion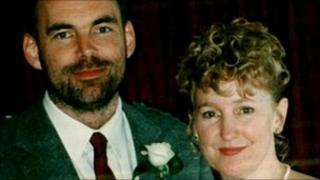 The father of a woman whose husband allegedly tried to kill her has told how he started to investigate his daughter's finances.
Malcolm Webster, 51, of Surrey, denies crashing a car in New Zealand in 1999 in a bid to kill Felicity Drumm, his second wife, to claim insurance money.
He also denies murdering his first wife in Aberdeenshire in 1994 in a car fire.
Brian Drumm, 82, told the High Court in Glasgow the couple's joint bank account had been emptied.
Mr Drumm said he turned detective after being tipped-off about money being taken from his daughter's bank account.
He told advocate depute Derek Ogg QC, prosecuting, he was given some information by the family lawyer.
He said: "I made the deduction for myself. The scales fell from my eyes."
The jury heard that Mr Drumm and his daughter searched Mr Webster's possessions.
Mr Drumm said they looked through Mr Webster's briefcase and a box of his possessions, and found the key to a private mail box.
Mr Drumm said one of the letters they then found was a bank statement which showed Mr Webster was taking money from Felicity Drumm's bank account and sending it to his own account in Aberdeen.
He also said that they came across a number of credit card bills which showed that Webster was in debt.
Mr Drumm said he got an injunction to prevent Mr Webster approaching their family home.
Asked what the impact had been on his family, he replied: "Dramatic."
Mr Drumm earlier said that a fire broke out in the early hours of the morning at his home in Auckland in February 1999.
Acrid taste
Mr Drumm told the court: "We were raised by shouting from upstairs. There was shouting coming from Felicity and Malcolm that there was a fire.
"I ran upstairs and saw a chair on fire, ran back downstairs and filled a bucket up. I took it upstairs and threw it on the wall."
Mr Drumm continued to run up and down the stairs, while Mr Webster filled a kettle with the toilet flush.
Mr Webster was said to have told his father-in-law: "We'll laugh about this later."
The trial also heard from Dr Jonathan Simcock, a neurologist with 45 years' experience.
He examined Ms Drumm after she complained of headaches, blackouts, double vision, fainting and an acrid taste attached to food.
She started experiencing the symptoms around the time of her wedding and honeymoon.
Dr Simcock, 73, said he initially diagnosed a vertebral migraine but said he had "had trouble" with his diagnosis until he was later visited by police.
He said he had wanted to reassure Ms Drumm and her GP that she did not have epilepsy or a brain tumour.
'Changed outlook'
Later, police investigating claims Ms Drumm had been drugged, suggested she had been given a sedative from the Benzodiazepine group, such as Librium, Valium or Rivotril.
He said their theory "totally changed my outlook" on her symptoms.
"It became very clear to me that everything she told me fitted with this," he said.
Mr Webster, from Guildford, denies attempting to kill Ms Drumm and fraudulently obtain £750,000 from insurance policies.
He further denies murdering his first wife, 32-year-old Claire Morris in Aberdeenshire. She died when the vehicle in which she was a passenger crashed and caught fire.
It is also alleged that he intended to bigamously marry Simone Banarjee, from Oban, Argyll, to gain access to her estate.
The trial, before judge Lord Bannatyne, continues.