Malcolm Webster case officer 'liaised with Interpol'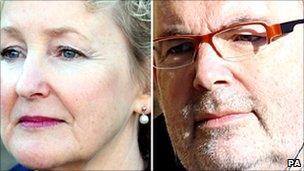 A detective has told how he liaised with Interpol and Scottish police over a man accused of murdering his first wife and trying to kill his second.
Malcolm Webster, 51, denies crashing a car in New Zealand in 1999 in a bid to kill Felicity Drumm, his second wife, to claim insurance money.
He also denies murdering his first wife in Aberdeenshire in 1994 in a car fire.
New Zealand police officer Glenn Gray told the High Court in Glasgow that Ms Drumm had first raised concerns.
Mr Webster, of Guildford, Surrey, also denies murdering his first wife, 32-year-old Claire Morris, in Aberdeenshire in 1994.
She died when the vehicle in which she was a passenger crashed and caught fire.
It is also alleged Mr Webster intended to bigamously marry Simone Banarjee, from Oban, Argyll, to gain access to her estate.
Det Gray said he first became involved in the case after Ms Drumm went to police after realising that Mr Webster had taken all the money from their joint account.
Advocate depute Derek Ogg QC, prosecuting, asked the officer: "When you saw her initially did her complaint centre around missing funds from her bank account which pointed towards her husband being the culprit?"
Mr Ogg asked: "Subsequently did she inform you of blackouts she had?"
The detective was then asked if he contacted Interpol and the Grampian and Strathclyde police forces in connection with the case and he said he had.
The court was told that the officer ordered an investigation into a fire at the home of Ms Drumm's parents in Auckland two days before Mr Webster and Ms Drumm were involved in a car crash.
He concluded that this fire, and another fire at the house where Ms Drumm and Mr Webster intended to live, were arson attacks.
The officer told the court that he was involved with the investigation into Mr Webster in New Zealand from February 1999 until November 2008.
The trial, before judge Lord Bannatyne, continues.
Related Internet Links
The BBC is not responsible for the content of external sites.