Family of Aberdeen soldier killed in NI receives honour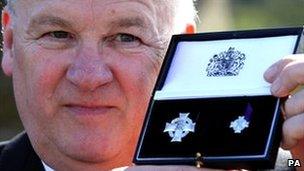 Relatives of an Aberdeen soldier killed in Northern Ireland almost 40 years ago have received the Elizabeth Cross.
Trooper Ian Caie was serving with the Royal Scots Dragoon Guards when he died following a bomb blast in Crossmaglen, County Armagh, in August 1972.
Colonel of the Royal Scots Dragoon Guards, Brigadier Simon Allen, presented the award in Edinburgh.
The Elizabeth Cross is granted to the relatives of personnel killed as a result of terrorism.
The soldier was 19 when he died.
His brother, Johnny Caie, 62, said: "It's a really proud moment. I know it's for the family but it's really special for us also to know that he is being recognised and he hasn't been forgotten about.
"Our emotions are just all over the place. It's been a big day for the family and the regiment couldn't have done anything better for us. They've done a lot."
Brigadier Allen said: "This service is very important to us because, in addition to recognising the sacrifice made by Trooper Ian Caie, it's very important to us as a family regiment that we recognise the debt we owe to the family themselves."
Related Internet Links
The BBC is not responsible for the content of external sites.