Malcolm Webster trial: Female friend was next of kin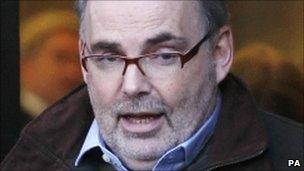 A man accused of murdering his wife named a female friend as next of kin when he was admitted to hospital after the fatal crash, a trial has heard.
Malcolm Webster, 51, denies murdering his first wife Claire Morris in 1994 in Aberdeenshire for insurance money.
Mr Webster, of Surrey, also denies crashing a car in a bid to kill his second wife in New Zealand in 1999.
Witness Joanna Reid told the High Court in Glasgow she did not know she was listed as next of kin.
The 47-year-old, who flew in from Yemen to give evidence, said: "I'm surprised by this."
She agreed with advocate depute Derek Ogg QC, prosecuting, that it would have been more usual for someone to put relatives down as their next-of-kin, if their wife had died.
Mr Ogg asked Ms Reid whether she was Mr Webster's best friend at the time and she replied: "No, just friends."
She told the court that she and Mr Webster, of Guildford, met in 1993 when both worked at Aberdeen Royal Infirmary, and met for a chat two or three times a week.
Mr Ogg asked her: "Did you become more than friends?"
She replied: "No, Malcolm would drop into my office quite often and I told him I was in a relationship. He told me he was engaged."
Ms Reid told the jury that she only met Mr Webster's wife Claire, 32, a couple of times, but described her as "a lovely person, bubbly, friendly, open and warm".
She told the court that she heard about the crash in which Ms Morris died after receiving a phone call from the hospital.
The jury heard she was on her way to spend the weekend with her then boyfriend in Glasgow when the call came through.
Instead of going to see her boyfriend, she went to the hospital to see Mr Webster.
Under cross-examination by defence counsel Edgar Prais QC, Ms Reid was asked if she had been in a sexual relationship with Mr Webster and she replied: "It's absolutely not true."
She was asked if she now had serious doubts about Mr Webster and she replied: "Yes."
Ms Reid was then asked if she had come to court to cover for Mr Webster and she said: "No."
Mr Webster also denies intending to bigamously marry Simone Banarjee, from Oban, Argyll, to gain access to her estate.
Related Internet Links
The BBC is not responsible for the content of external sites.