Malcolm Webster trial: 'Murder bid' wife sought GP help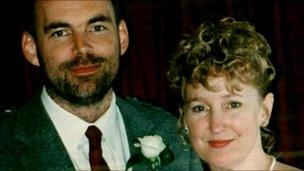 A woman whose husband allegedly tried to kill her sought medical help for "unrousable" sleep and double vision, a murder trial has heard.
Malcolm Webster, 51, denies crashing a car in a bid to kill his second wife Felicity Drumm in New Zealand in 1999.
Mr Webster also denies murdering his first wife Claire Morris in 1994 in Aberdeenshire for insurance money.
GP Julie Hancock told the High Court in Glasgow that Ms Drumm consulted her about the symptoms in May 1997.
Speaking via a link from New Zealand, the doctor said Ms Drumm complained of three episodes of "unrousable" sleep and double vision.
Dr Hancock, 48, told the court the symptoms were unusual, and that she had not seen anyone complaining of that combination of symptoms before then.
Asked if she had seen them since, Dr Hancock said: "In the context of someone who has been out in a nightclub and thinks someone has spiked their drink."
Dr Hancock was asked what the purpose of the consultation was and replied: "She said she had three episodes which happened at night.
"She was unrousable, very tired and had double vision. One episode lasted 36 hours before she woke up.
"There wasn't anything I could put my finger on. She appeared fit and healthy.
Mr Webster, of Guildford, Surrey, also denies intending to bigamously marry Simone Banarjee, from Oban, Argyll, to gain access to her estate.
Related Internet Links
The BBC is not responsible for the content of external sites.