Heroin warning issued after Aberdeen fentanyl death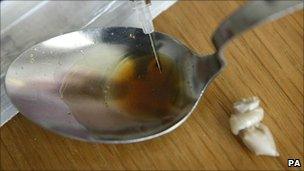 A warning has been issued to heroin users in Grampian after the death of a man in Aberdeen.
The Class A drug fentanyl, a white powder sometimes called China white, has been implicated in the 40-year-old's death in Torry.
It is thought fentanyl may have surfaced due to a shortage of heroin in the area.
Grampian Police Insp Andy Imray said: "I suspect that users taking this drug believe they have bought heroin."
He explained users may have found that they were unable to smoke it and had to sniff or inject it instead.
Dr Maria Rossi, consultant in public health medicine at NHS Grampian, said: "Fentanyl is a powerful synthetic opioid, used in medical and surgical settings and by prescription only.
"Heroin users run a serious risk of overdose and death in using this substance illicitly."
Police said there had been 207 drug-related deaths in the Grampian area between 2006 and 2010.
Related Internet Links
The BBC is not responsible for the content of external sites.