Aberdeen City Garden project design contest launched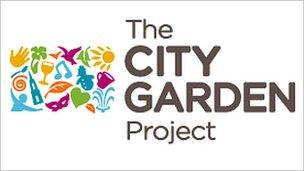 An international design competition for Aberdeen's controversial City Garden project has been officially launched.
The £140m project aims to transform Aberdeen city centre, potentially spelling the end of the historic Union Terrace Gardens.
Councillors recently backed continuing support for the project ahead of the design contest.
A shortlist will be announced in the July and the winning bid is due to be announced in December.
The design competition is being managed by Malcolm Reading Consultants (MRC) and closes on 13 June.
Teams are to include an urban designer, architect, structural, civil and services engineering, landscape architect and a cost consultant.
Mr Reading said: "This is a chance for any designer, passionate about cities and how to make them inspiring and alive, to make their name and reputation."
During a public consultation process, 55% of the respondents said they did not want the new square.
However, last May councillors backed taking the plans to the next stage.
Oil services tycoon Sir Ian Wood is pledging £50m of his own money towards the project.
The council hopes construction of the square will be completed by 2016 if the plan proceeds.
The competition is advertised in the Official Journal of the European Union (OJEU).
Related Internet Links
The BBC is not responsible for the content of external sites.