Malcolm Webster trial: Accused 'turned fierce'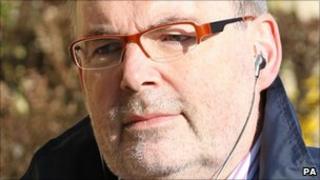 A former friend of a man accused of murder plots against his wives has told a court she saw another side of him when he was "fierce".
Malcolm Webster, 52, of Surrey, denies murdering his first wife Claire Morris in a crash in Aberdeenshire in 1994.
He also denies attempting to kill Felicity Drumm in New Zealand in 1999.
Witness Claire McMillan told the High Court in Glasgow she had tried to give Mr Webster's second wife homeopathic cream for their baby son.
Mrs McMillan told advocate depute Derek Ogg QC , prosecuting, that Mr Webster had been out with the baby trying to soothe him and saw the tube of cream when he returned.
She said: "Malcolm took the tube and couldn't see a use by date. You would have thought I was giving him something awful to put on the child.
"He was very disdainful. He was really fierce."
At the time the Websters were staying with the McMillans, and Mrs McMillan said she went back upstairs and spoke to her husband who was in bed.
Mr Ogg asked: "Had you ever seen him like that?"
'Beyond his means'
She replied: "Never. I said to my husband I've just seen a side to Malcolm I've never seen before and I don't think you have either."
An accountant told the court that Mr Webster spent almost £200,000 of the insurance money he received after the death of his first wife within six months.
Ann Condick said that, in the month leading up to Claire Morris's death, Mr Webster was in thousands of pounds of debt.
She said of Mr Webster: "It seemed to me he was living well beyond his means.
"When he was not able to take further credit from a card he would take out another one or get a loan which put him further in debt."
Mr Webster, from Guildford, also denies intending to bigamously marry Simone Banarjee, from Oban, Argyll, to gain access to her estate.
The trial continues.