Funeral for gun death teenager Sophie Taylor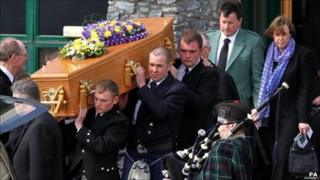 The funeral has taken place of 16-year-old Moray schoolgirl Sophie Taylor, who was killed in a double shooting tragedy two weeks ago.
Mourners gathered at the Lecht Ski Centre to celebrate her life before she was buried at Tomintoul cemetery.
In a statement her family said Sophie "touched the lives of so many" and they were "left devastated by her loss".
Her boyfriend Calum Murray, 18, is believed to have accidentally shot Sophie before turning a gun on himself.
He was buried at Alford in Aberdeenshire on Saturday.
The deaths happened at a cottage near Tomintoul on 12 April.
About 1,000 mourners packed the Lecht Ski Centre near Tomintoul to hear of a girl who was "beautiful" with a "brilliant sense of humour".
Michael Baker, who conducted the service, told mourners they were gathered together because of a "terrible accident".
He said: "I hope as we come to celebrate such a young life, 16 years, but still 16 years well lived, that we'll take the opportunity to reflect, to grieve, to come together as a community to say that last goodbye."
Sophie's parents David, 41, and Katie, 44, along with her brother David, 18, chose three songs to play during the service.
The first song played was Just The Way You Are by Bruno Mars before Mr Baker introduced Sophie's "lifelong friend" Sarah Foster.
She read a letter to mourners recalling her memories of the time the girls shared together growing up.
Sophie's friend and former teacher Gill Handley then read All Things Bright And Beautiful before delivering a tribute to the teenager.
She said: "Sophie was an amazing person with a wonderful personality. She was fun and vibrant and always ensured there was never a dull moment when she was around.
"She had an uncanny ability to say a thousand words with just one of her many crazy facial expressions."
Ms Handley then introduced the song Teenage Dream by Katy Perry.
She added: "And now my gorgeous, you'll be young forever, go live that teenage dream, girl."
A tribute was then read by Mr Baker on behalf of Sophie's family which described her as their "beautiful baby girl" with an "encapsulating smile".
She had grown up to be a teenager who was always happy and had become known as "the girl with the blue eyeliner," they said.
The tribute also told of how she had started to go out with Mr Murray.
"He was loving and respectful towards her, they were happy together. Calum soon became a part of everyday life," they said.
The final piece of music played was True Colours by the cast of Glee.
A piper then played as Miss Taylor's coffin was carried out before being driven to Tomintoul Cemetery.