Malcolm Webster trial: Accused was prescribed diazepam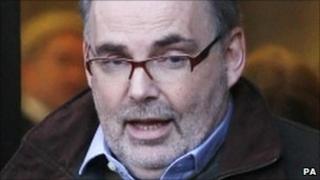 A man accused of murdering his first wife and trying to kill his second was prescribed 191 diazepam tablets, a court has heard.
Malcolm Webster, 52, of Surrey, denies murdering his first wife Claire Morris in a crash in Aberdeenshire in 1994.
He also denies attempting to kill Felicity Drumm in New Zealand in 1999.
Dr Jennifer Brownhill told the High Court in Glasgow that Mr Webster was prescribed the diazepam after complaining about his back in 1998.
She told advocate depute Derek Ogg QC, prosecuting, that Mr Webster first visited the practice in February 1998 complaining of back pain after taking a printer out of the loft of his Aberdeenshire home.
Mr Ogg said: "He complained of pain due to spasms."
Dr Brownhill replied: "That's correct."
He returned several times over the coming months, the court heard.
Mr Ogg said: "So between February and July 1998 Mr Webster was given 191 diazepam tablets and he would legitimately have these in prescription bottles?"
Dr Brownhill said: "Yes. That's correct."
Mr Webster, from Guildford, also denies intending to bigamously marry Simone Banarjee, from Oban, Argyll, to gain access to her estate.
The trial continues on Tuesday 3 May.