Three drivers caught driving at over 100mph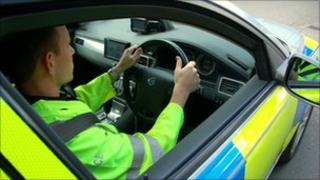 Three drivers have been caught driving at speeds of more than 100mph in a crackdown in Aberdeenshire.
Grampian Police said all of them were clocked on the A90 at Ellon on Friday, during the weekend operation.
Two of the drivers were aged between 17 and 25, with one of them driving at 103mph on a 60mph stretch of the road.
Ch Insp Ian Wallace said: "Despite repeated messages, the local results for day one of this national campaign are very frustrating."
He added: "The key issue which appears to have been missed by those drivers we stopped for speeding yesterday is one of personal responsibility, not only for themselves, but to other road users and to any passengers they were carrying."
Passenger responsibility
One of the young drivers was carrying teenage passengers.
"Passengers also have a responsibility to challenge poor driving," Ch Insp Wallace said.
"If they are in a car which is being driven at high speed or improperly, tell the driver to slow down and drive carefully, make the point to them, let them know how you feel and challenge any inappropriate driving.
"Inexperienced and young drivers, country roads and speed can be a deadly combination."
Police said eight other "higher speed" offences were also detected on Friday, ranging from 86mph to 99mph, with two being committed by young drivers.