Fraserburgh baby death: Mother denies murder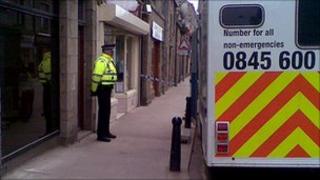 A woman has gone on trial accused of murdering her baby son on the day he was born, by suffocating him.
Ineta Dzinguviene, 26, denies asphyxiating the newborn - later named Paulius Dzingus - by using clear plastic food wrapping.
She is also accused of hiding the corpse in a bag in a bid to evade justice after the child's death in Fraserburgh in April 2010.
Ms Dzinguviene went on trial at the High Court in Livingston.
She is alleged to have murdered the baby in the Aberdeenshire fishing port's High Street on 12 April last year.
The accused is Lithuanian and is being assisted by a translator.
Neighbour Barry MacAtasney told the court Ms Dzinguviene lived in a flat with her husband and three young children.
Mr MacAtasney said that on the day in question the accused had knocked on his door.
He said: "She was rubbing her belly and I couldn't really understand what she was saying as she was speaking in broken English. She looked distressed.
"She seemed pregnant and I thought she was going into labour.
"I went and called an ambulance."
Mr MacAtasney said his girlfriend stayed with Ms Dzinguviene on the landing, until two ambulance workers arrived to help.
He added: "They rushed her into the flat. I thought I'd done my part from there. I didn't speak to her again that day."
'Very little'
Mr MacAtasney said he helped to look after Ms Dzinguviene's children, as there was nobody to look after them when she was taken to hospital.
He told the jury he later got a phone call from the hospital asking him if he would come and collect Ms Dzinguviene and her baby.
Mr MacAtasney said: "She had a child wrapped in a blanket, and thanked me for taking her home. She didn't show me the baby, but I could see it.
"I couldn't tell if it was a boy or a girl but I could see it moving. It was very little."
Mr MacAtansey's girlfriend, Hannah Paterson, 23, said she was at the window with two of Ms Dzinguviene's young children when she saw Ms Dzinguviene return.
She said: "She was carrying her child in a white blanket. I thought her kids seemed excited about their mum returning.
"I was speaking to her older daughter and she said she wanted a new sister."
Ms Paterson said she thought it was "odd" when Ms Dzinguviene walked straight past her when she came into the flat and did not speak to her, or show her the baby when she came in.
She added: "Personally, if that was me I would be showing the baby off, not hiding away."
Dorothy Bain QC, prosecuting, asked: "Did you see her show the baby to the children?"
Ms Paterson replied: "No. She said thank you for helping out but tried to 'shoo' us out the house. We were standing in the hallway and it was as if she was moving us towards the front door.
"We got the sense she didn't want us to be there any longer as she didn't show us the baby."
The trial is expected to last several days.