Scots prepare for Monaco jet ski challenge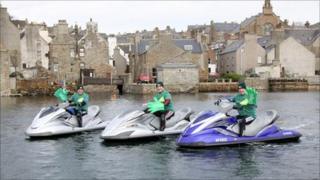 Three Scots are to take on a 5,000-mile (8,046km) jet ski trip from Orkney to Monaco to raise money for charity.
Orcadians Colin Gregg and Dugy Ward as well as Gary Forber, from Livingston, will set off on 1 May for what they believe is the longest ever water scooter challenge on open water.
The trio will jet ski around the coasts of France, Spain, Portugal and Gibraltar before reaching Monaco.
They hope to raise more than £100,000 for charity.
The team plan to spend eight hours a day on their machines.
They will be seen off from Scapa Pier in Orkney at the start of their journey escorted by tugs with their water canons in full thrust.
The motor-sport fans will spend almost a month at sea before arriving at the finishing line on 27 May - just in time to watch the Formula 1 Monaco Grand Prix.
The men, who are taking on the trip to raise money for Macmillan Cancer Support and the Make a Wish Foundation, have already raised more than £12,000 for the charities.
Mr Gregg, 44, said: "Physically and mentally it will be a really difficult challenge.
"No-one has ever taken on this particular trip before and we think it will be the biggest distance ever covered by a jet ski on open water.
"My wife is a Macmillan nurse so I know how valuable the charity's work is so we really want to raise as much money as we can."
The trio are being supported by motor-racing team McLaren, which is giving them the front wing plate of a car driven by Formula 1 star Lewis Hamilton. It will be auctioned off to raise extra charity cash.
Mr Greg and Mr Ward raised £25,000 for Macmillan in 2009 by jet skiing 2,500 miles (4,023km) around the coast of the UK.