Royal wedding: Prince William 'has Middleton ancestry'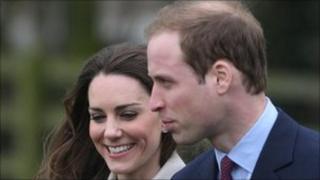 A heritage consultant who was trying to establish if Kate Middleton had Scottish roots has found an ancestral link to Prince William instead.
Gordon Casely, who is based in Aberdeen, said he found Prince William was a direct descendant of a "hard-drinking" 17th century Middleton from Aberdeenshire.
Mr Casely claimed the prince's lineage could be traced back to John Middleton, the son of a laird from the parish of Luthermuir.
Middleton's daughter went on to marry an ancestor of Prince William's great-grandmother, Queen Elizabeth the Queen Mother.
The family link to Luthermuir was outlined by Mr Casely in north-east Scotland regional magazine, Leopard.
Mr Casely, who said he could find no link to Prince William's bride-to-be, claimed John Middleton's origins were both "obscure and humble".
According to his research, "Jock", as he was later known, was born to Robert Middleton of Caldhame and his wife Elizabeth Strachan, in about 1608.
He enlisted as a simple regimental pikeman at the age of 13 but rose through the ranks to become a lieutenant-general by the age of 32 and later commander of the Covenanting forces in Scotland in 1646.
By 1648, he had switched to supporting the Royalist cause, eventually becoming Charles II's commissioner to the Scottish Parliament at the Restoration in 1660.
'Befuddled with drink'
He was created Earl of Middleton and later became governor of Tangier.
According to Mr Casely, Middleton lived in a government house overlooking the Strait of Gibraltar where one night in 1674, "befuddled with drink", he died from injuries sustained from falling downstairs.
Mr Casely said academics described Middleton as a "hard-drinking ruffian" and "notorious".
In 1662 Earl John's daughter, Lady Helen Middleton, married Patrick Lyon, 3rd Earl of Kinghorne.
Lady Helen was the ancestor of Lady Elizabeth Bowes-Lyon, youngest daughter of the 14th Earl of Strathmore and Kinghorne - better known as Queen Elizabeth the Queen Mother, Prince William's great-grandmother.
Mr Casely said he had stumbled across the Prince William link to Luthermuir by chance.
He said: "I was actually preparing a brief on Kate Middleton and was looking into who the Middletons had married. There was no evidence of any Scottish bloodline with regard to Kate but I discovered by lucky accident that Prince William had Middleton ancestry here.
"Kate is entitled to wear the Middleton tartan, both by virtue of her surname and of course by virtue of the fact the man she is marrying is of Middleton descent."
Luthermuir resident and local community councillor, Janette Anderson, said the village was proud of the link to the Royal wedding.
"It was very nice to learn that there is a Royal connection to the village," she said. "We will be celebrating the wedding in the village hall on Friday.
"We would have had a street party but the weather here is unpredictable."