Fraserburgh baby death accused 'wanted to go home'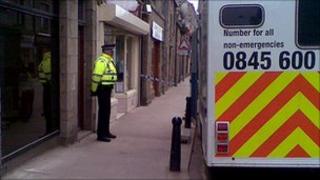 A woman accused of murdering her newborn son showed "unnatural urgency" to leave hospital minutes after giving birth, a midwife has told a jury.
Brenda Beattie, 49, said she helped Ineta Dzinguviene give birth just hours before the woman was alleged to have suffocated her son by holding clear plastic food wrapping over his face.
Ms Dzinguviene's son was born in April 2010 at Fraserburgh Hospital.
She denies murder and attempting to pervert the course of justice.
Mrs Beattie told the High Court in Livingston she was called to Ms Dzinguviene's house in the Aberdeenshire town's High Street after being contacted by a local ambulance crew to assist in case she needed to give birth imminently.
Mrs Beattie said it was "very unusual" that she didn't recognise Ms Dzinguviene, as most mothers-to-be in the area would have attended ante-natal classes at the birthing unit at the hospital where she worked.
She said Ms Dzinguviene seemed "very calm at first", and that although she was in labour, there was enough time to get her to hospital.
However, she said things changed shortly after arriving there.
'Very upset'
Mrs Beattie said: "All of a sudden there was an urgency for her to get the baby out and she kept asking for us to break her waters so the baby could be born. We said it wasn't our policy to do that but she became very upset and kept asking.
"I found it unusual but thought it was her desire to get back to her three children at first."
She said when Ms Dzinguviene's waters broke, her urge to push out the baby "became stronger" but that she gave birth "relatively easily".
Mrs Beattie broke down in tears as she told how Ms Dzinguviene was then handed her baby son, who weighed just over 6lbs, and breastfed him.
Mrs Beattie said Ms Dzinguviene's baby son scored the top score in a number of tests they carried out at the hospital, adding: "We were very pleased with this baby."
Dorothy Bain QC, prosecuting, asked Mrs Beattie what happened after they had carried out tests on the baby.
'Unnatural urgency'
She replied: "She (Ms Dzinguviene) wanted to go home immediately. She appeared really agitated and desperately wanted to go home. She didn't want to shower or have refreshments. It was unnatural urgency.
"I'd expect her to want to spend time with her baby. At one point she got out of bed and wrapped the sheet she'd delivered on and tried to head out the door.
"The sheet was still covered in blood and amniotic fluid. I gently led her back to bed but she desperately wanted to leave."
Mrs Beattie also said tests on the new mother found Ms Dzinguviene had high blood pressure, despite her saying she had "no medical condition".
She told the court: "It had risen to such a level that it wasn't safe for her to leave. We tried to explain to her the reasons why we didn't want her to go home and we explained the possible medical consequences. She said she understood but still wanted to go home.
"I explained to her that if she insisted on going home she would have to sign a 'discharge against medical advice form' before going home."
Mrs Beattie said Ms Dzinguviene was later allowed to return home provided she returned for a check-up on the following day.
Ms Dzinguviene returned to the hospital the next day at about 0900 BST.
Mrs Beattie said: "She was on her own and appeared in a hurry. She was dressed very well. Well groomed with make-up on and she looked well.
"I asked where her baby was and she said he was with the father and she said she was in a hurry as she said they were all going somewhere."
Ms Dzinguviene, a Lithuanian national, denies asphyxiating the newborn - later named Paulius Dzingus - by using clear plastic food wrapping.
She is also accused of hiding the corpse in a bag in a bid to evade justice after the child's death in Fraserburgh in April 2010.
The trial, before judge John Beckett QC, continues.