Oil and gas industry confidence 'suffering' over tax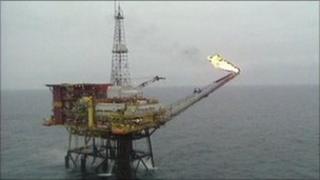 The oil and gas industry has suffered a "dramatic drop in confidence" due to tax concerns, it has been claimed.
Industry body Oil and Gas UK said its quarterly business index for the start of 2011 had switched from a positive outlook towards the end of 2010.
The UK government's Budget tax hike on North Sea oil in March was blamed.
Chancellor George Osborne raised the supplementary tax on North Sea oil production from 20% to 32%, to fund a cut in fuel duty.
Oil and Gas UK said its quarterly index report provided a measure of industry confidence on a 100 point scale, with a higher rating - above 50 - indicating a positive outlook and a lower rating, below 50, giving a more negative view.
Exploration and production companies reported a 25 point decrease from 71 to 46.
'High activity'
Brian Kinkead, Oil and Gas UK's supply chain director, said: "In this quarter we have seen the largest falls in confidence in terms of activity levels, investment and business confidence.
"Of the respondents surveyed, 50% said their optimism had decreased due to the tax increase.
"Another 25% of respondents reported high activity levels in this quarter, as they are already committed to a number of projects, but are likely to see tax changes having a negative impact on their business in the longer term."
The report came ahead of offshore industry leaders giving evidence to the Commons energy and climate change committee.
The Treasury said in a statement it expected offshore company profits to remain high but that if they identified some potential impact on investment it would consider using allowances to deal with it.
It said it would continue to liaise with the industry on setting the level of its fair fuel stabiliser, where taxes would fall to reflect a cut in the oil price.