Malcolm Webster gives evidence in wife murder trial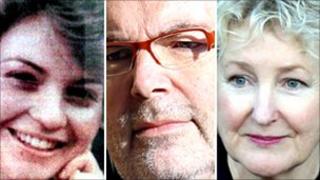 A husband has denied murdering his first wife and attempting to murder his second as he gave evidence for the first time in a long-running trial.
Malcolm Webster, 52, from Guildford, Surrey, denies murdering his first wife Claire Morris in a crash in Aberdeenshire in 1994.
He also denies attempting to kill Felicity Drumm in New Zealand in 1999.
Mr Webster told the High Court in Glasgow he had not acted for "ill-gotten gains" through life insurance.
Advocate depute Derek Ogg QC, prosecuting, described the death of Claire Morris as a "cold-blooded, premeditated, carefully-planned murder that went precisely according to plan".
Mr Webster replied: "I'm telling you it was not a murder, it was a tragic accident."
Mr Ogg told Mr Webster: "All the facts in this case that have been painstakingly researched and spoken to become a blizzard that blows in one direction - you are as guilty as sin of murdering Claire."
He replied: "I didn't murder Claire."
He told the court: "I was avoiding a motorcyclist, the lights of a motorcyclist, on my way back to the cottage.
"I swerved to the left, that's all I can remember of the situation. I know that I didn't hit the motorcyclist."
Defence counsel Edgar Prais QC asked: "Did you stage the accident so that you could murder your wife?"
Mr Webster replied: "No, I did not."
Mr Prais then asked: "Did you take out insurance policies so that, having murdered your wife, you could reap your ill-gotten gains?"
Mr Webster said: "No."
'Bizarre world'
Mr Prais asked of the New Zealand crash: "Did you deliberately leave the road?"
He said: "Yes, because I was on my way with Felicity, we were going to the bank and I knew that there were no funds there."
Mr Webster said he did not want to kill or hurt his wife.
Mr Ogg said there were similarities between the two crashes.
He said: "That's why you had to go to the other end of the world to carry it out, so that someone like me could not make the connection.
"It's the only safe place to murder a second wife, the other end of the world."
Mr Webster also denies intending to bigamously marry Simone Banarjee, from Oban, Argyll, to gain access to her estate.
When asked why he lied to her about having leukaemia he said: "I was caught up in my own bizarre world."
Mr Ogg then said: "This bizarre world seems to have spanned 17 years."
Mr Webster told him: "It's probably spanned more than that."
The trial, which began on 1 February before judge Lord Bannatyne, continues.