Six fishermen in airlift rescue off Burra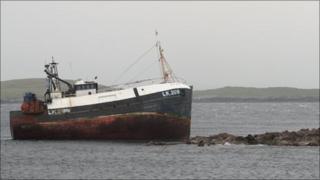 Six fishermen have been rescued off Shetland after their boat hit rocks near Burra Isle.
The Lerwick-registered fishing vessel, Quiet Waters, got into difficulties just after 0230 BST on Sunday.
Shetland Coastguard said the crew were airlifted off the vessel by helicopter about 90 minutes later. The men were reported to be safe and well.
South easterly near gale-force winds had been forecast for the area overnight.
The Quiet Waters was on its way to land fish and shelter from the winds when it hit a rocky outcrop.
Skipper Ross Christie told BBC Scotland: "We went ashore, hit the rocks, grounded and started taking on water.
"So we called the coastguard - just a bit of misjudgement."
When the rescue helicopter arrived the boat was listing heavily to one side.
The crew were airlifted to safety as water was already starting to cover part of the deck.
Kieran Murray, from Shetland Coastguard, said: "Once we arrived on scene there was very little light on the vessel so we had to illuminate the whole area.
"We could see the vessel leaning over on its port side, the back end of it actually under the water, and the guys at quite an angle, holding on to the side of the vessel."
Four of the crew are foreign nationals and they are being looked after at a local fishermen's mission.
Attempts to tow the boat off the rocks will take place on Monday if the high winds die down.