New Robert the Bruce statue unveiled in Aberdeen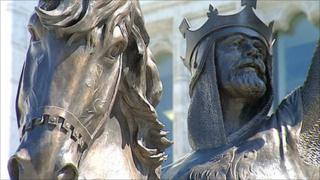 A statue to commemorate King Robert the Bruce's links with Aberdeen has been unveiled.
The original idea came from a council motion calling for the city to recognise the debt owed to King Robert the Bruce as a benefactor.
The city's Common Good Fund was developed as a direct result of a charter he issued in 1319.
The £120,000 statue, outside Marischal College, was created by sculptor Alan B Herriot.
The statue, selected after a competition for the design, was funded by the Common Good Fund.
Marischal College is due to open as the new headquarters of Aberdeen City Council later this year.