Webster case: 'Accused got away with wife's murder'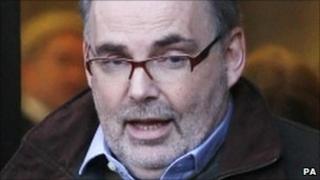 A man got away with murder for 17 years by making the death of his first wife in a car crash look like an accident, a jury has been told.
Malcolm Webster, 52, denies murdering Claire Morris in an Aberdeenshire crash in 1994 for a life insurance payout.
Mr Webster, of Surrey, also denies attempting to kill Felicity Drumm in New Zealand in 1999.
Advocate depute Derek Ogg QC said in his closing speech, Mr Webster was a "brilliant criminal genius".
Mr Ogg said Mr Webster's only flaw was "he can't stop himself".
He told the High Court in Glasgow: "For 17 years it was the perfect murder. He got away with it for 17 years because he made it look like an accident."
The prosecutor said that all the individual pieces of evidence against Mr Webster came together to "form a web, a mesh, a net that caught him so fast and so completely".
Copycat crash
Mr Ogg compared the circumstantial evidence to a 1,000-piece jigsaw with some of the pieces missing, and added: "There are bits missing, but we can still see what it is meant to be."
Mr Ogg said that both wives loved and trusted Mr Webster, and he repaid that by killing his first wife and robbing his second and attempting to murder her.
The court was told that the Crown position was that the accused carried out a copycat car crash in New Zealand with Ms Drumm in the car.
Mr Webster, of Guildford, also denies intending to bigamously marry Simone Banarjee, from Oban, Argyll, to gain access to her estate.
Mr Ogg is expected to finish his closing speech on Friday and then defence QC Edgar Prais will speak on behalf of Mr Webster.
The trial, before judge Lord Bannatyne, continues.