Boggy hillside reborn as Orkney forest reserve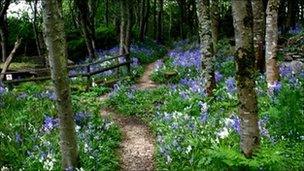 A boggy hillside on Orkney that was cultivated by a nature enthusiast over 50 years is to be turned into a reserve.
During his lifetime, Edwin Harrold transformed the area from a treeless landscape into the island's first miniature forest.
The area, known as Happy Valley, now features 700 trees and lush gardens.
Since Mr Harrold's death in 2005, locals have worked to ensure the site remains a haven for wildlife.
Mr Harrold developed the land after using a small burn to power a waterwheel that generated electricity for his nearby cottage.
He also encouraged the local community to visit and to enjoy his labours for themselves.
Following his death, the land was gifted to Orkney Islands Council by its owner, Professor William Isbister.
The woodland will now form part of the new nature reserve, with financial support from the Scapa Flow Landscape Partnership Scheme.
Those behind the project said discussions were still to take place about how the money would be spent, however, any decision would be driven by the local community and "in the spirit of Edwin Harrold".
Julian Branscombe, manager of the scheme, said: "From the outset, an important part of the scheme was to support nature reserve work so people could enjoy and appreciate local wildlife.
"Given the way that Edwin Harrold created Happy Valley over 50 years as a place where wildlife could thrive and everyone would be welcome, and with this work now being carried on by Friends of Happy Valley, this seemed perfect for our support."
Related Internet Links
The BBC is not responsible for the content of external sites.