Two-month deadline set for Scots RAF base decision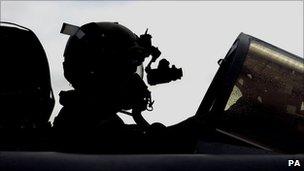 Campaigners will learn the fate of Scotland's two remaining air bases in just under two months, First Minister Alex Salmond has said.
Mr Salmond met with Defence Secretary Liam Fox on Wednesday to reiterate the case for retaining both RAF Leuchars and RAF Lossiemouth.
He said a decision would be made about the bases by 19 July.
Speaking after the meeting, Mr Salmond described the talks with Dr Fox as "constructive".
He said: "The defence secretary insists that nothing is ruled in or out at this stage and that no final decisions have been taken.
"He's aware that lots of communities want an answer to this - there will be answer by July 19."
The first minister said the vast majority of air force bases in the UK at present were in the south east corner of England.
He added: "What kind of configuration is that in strategic terms?
"Moray and Fife are areas that have shown enormous loyalty to the RAF over generations and they deserve a bit of loyalty in return."
Dr Fox visited both RAF Leuchars and RAF Lossiemouth on Wednesday.
Following the visits, the UK defence secretary said he had listened to the concerns of people regarding the future of the bases.
He added: "We are working with the local communities as we take forward the review into basing across the United Kingdom.
"While I want to take these decisions as soon as possible to remove uncertainty for our personnel, their families, and local communities, it is important to remember that decisions made now will lay down the footprint for our armed forces for many years to come and so must be carefully considered.
"We cannot rush this decision - we must make sure it's the right one."
Dr Fox faced criticism from the SNP for "snubbing" RAF disbandment ceremonies also taking place at RAF Kinloss.
The three operational squadrons at Kinloss are being disbanded in the wake of his decision to cut the Nimrod maritime patrol aircraft and close the base.
A Ministry of Defence spokeswoman said there was "absolutely no suggestion whatsoever of a snub" to RAF Kinloss.
She added: "There was a royal visit to the base by the Duke of Edinburgh to oversee the disbandment and the secretary of state did not want to interrupt it.
"The RAF were perfectly happy with that."
Related Internet Links
The BBC is not responsible for the content of external sites.