Stonehaven care home medication probe employee resigns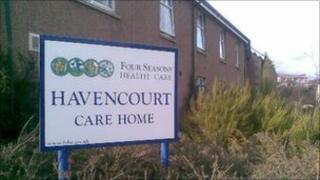 A care home worker has resigned amid fears some residents were not given the correct medication.
An investigation was launched at the Havencourt care home in Stonehaven, Aberdeenshire, after concerns were raised by a colleague.
Four Seasons Health Care, which owns the home, said no residents "experienced any lasting effects".
A statement added: "The company has notified the Nursing and Midwifery Council."
The company said: "A nurse at Havencourt care home noticed that a member of staff on night duty had apparently failed to dispense a dose of medication to some residents.
"The home manager notified the appropriate authorities in line with our procedure and an investigation was instigated.
"When contacted by the manager, the member of staff resigned and so has not been subject to a company disciplinary hearing.
"The wellbeing of residents is our prime concern. We regard this as a very serious matter. We are grateful to the vigilant member of our nursing staff who alerted the manager."
Four elderly residents at the care home died earlier this year after an outbreak of respiratory illness.
All had underlying medical conditions.