'Talks under way' over Marischal College buildings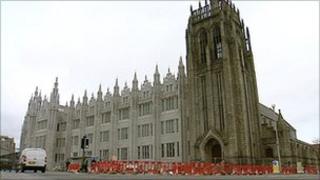 Talks are under way on the possible handover of the remaining parts of the Marischal College complex to Aberdeen City Council, BBC Scotland has learned.
Staff have begun moving into the council's new headquarters.
A confidential report to the finance committee recommends further discussions with owners, the University of Aberdeen and Church of Scotland.
Deals for Mitchell Hall and Greyfriars Kirk are now being considered.
The complex has been extensively refurbished as part of a three-year £65m project.
Hundreds of employees are moving there from the 1960s St Nicholas House block across the street.
Staff are also moving from other offices around the city over the next two months.