Student's disguised jewellery alarm 'to aid the abused'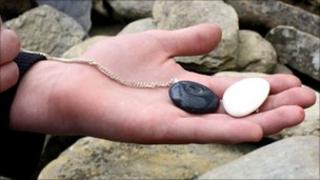 An Aberdeen student has designed an anti-domestic abuse alarm disguised as jewellery which he believes could help save lives.
Niall Crossen, 24, of Robert Gordon University's Gray's School of Art, met victims of domestic violence and experts who work with them.
The bracelets, pendants and brooches have a secret button concealed on them.
The system would allow a signal to be sent to a crisis call centre.
He hopes the final-year project could help to protect victims of domestic abuse.
An individual user could be linked with each piece of jewellery through a code, which on connecting to a call centre would upload information on the victim, including their history of abuse and current address.
The design student said: "My concept works in a similar way to alarms used in sheltered accommodation for the elderly.
"The collection comprises bracelets, necklaces and brooches in a simple design which would hopefully appeal to a wide demographic of women and look natural on the wearer.
"Throughout my course, I've always been interested in how design can deal with social issues and how I can use the power of design to positively impact or even save someone's life.
"I wanted to explore how, through design, I could offer a lifeline to victims of domestic abuse - particularly women."
Pilot testing
He added: "The next stage in the project is to look for funding to create fully-working models and conduct pilot testing with feedback from potential users.
"It is my hope that it could be distributed free to victims of abuse by support organisations."
The jewellery will be among the work featuring in the annual degree show at Garthdee Road from Friday.
The show will then be open to the public from Saturday until 25 June.