Aberdeen council head Callum McCaig among UK's youngest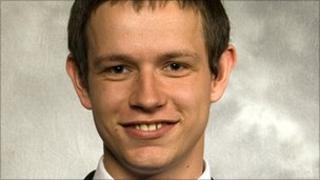 The SNP's Callum McCaig has been named Aberdeen City Council's new leader as part of a coalition with the Lib Dems.
Mr McCaig becomes one of the UK's youngest council leaders at 26, with former council leader and Lib Dem John Stewart now depute leader.
In a joint statement they said they were "delighted" at agreeing a way forward.
Mr Stewart announced last week he was stepping down after the SNP became the biggest party on the authority.
The Lib Dems were, until recently, the largest group in the council.
But in the wake of two recent by-elections - both won by the SNP - the Nationalists are now the largest grouping with 15 seats, compared with the Lib Dems' 13.
Mr McCaig will convene the corporate policy and performance committee, and Mr Stewart will convene the finance and resources committee.
The pair said in the statement: "We are delighted that our groups have found a suitable way forward to ensure stability and get the best results for the people of Aberdeen.
"Our city needs politicians who can work together for the benefit of the people.
"The SNP and Liberal Democrat groups are pleased to have renewed our coalition agreement to take the council forward."
It comes as Aberdeen City Council faces some crucial decisions on proposals for cuts of about £120m over the next five years.
The UK's youngest council leader is Sinn Fein's Niall O Donnghaile, 25, who is lord mayor in Belfast.