Man dies after van hits building in Aberdeen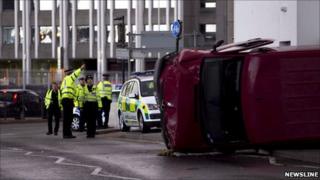 A man has died after the van he was driving left the road and hit a building in Aberdeen.
The crash, involving a red Mercedes van, happened on Virginia Street at about 1855 BST on Thursday.
Grampian Police said the vehicle was travelling east when it left the road, mounted the pavement and hit a building.
The dead man, who was not carrying any passengers, was believed to be a foreign national living in the city.
Insp Ian Kirkwood said: "We know that the van travelled from Market Street on to Virginia Street and for some reason left the road near the Shiprow junction and struck a building.
"We would like anyone who saw that red Mercedes van travelling towards the scene or the actual collision itself to get in touch with us even if they think they didn't see anything significant."
He said minimal damage was caused to the building and the road was closed for several hours while an examination of the scene was carried out.